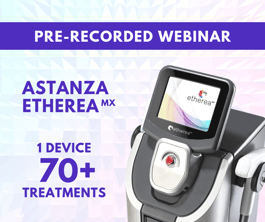 Astanza recently hosted an exclusive webinar where viewers learned about the latest addition to our aesthetic product line, the Astanza EthereaMX!

Access the previously recorded webinar to learn about the versatile aesthetic platform that performs over 70 FDA-cleared treatments using 7 unique handpieces.

During the webinar, viewers learned how the EthereaMX is revolutionizing the way Med Spas and other aesthetic practices are able to treat a wider patients range of patients. Using the EthereaMX, practitioners are now able to treat all skin types (Fitzpatrick I-VI), with special added safety features designed to protect patients with darker skin tones.

"Our newest laser allows us to continue to support our number one priority - our clients - through the growth of their businesses and services," said David Murrell, Astanza Laser President. Astanza has partnered with Vydence Medical, the premier medical device manufacturer in Brazil, the world's second-largest market for aesthetic procedures, and a worldwide leader in laser research and development, in order to bring the EthereaMX to the United States.

"Welcoming the EthereaMX to our line of products was an easy decision. Astanza is constantly looking for ways to expand and stay at the forefront of the aesthetic industry and the team at Vydence has delivered the gold standard laser platform."





Using the EthereaMX's 7 unique plug-and-play handpieces, practitioners can now perform over 70 FDA-cleared aesthetic treatments with one platform device. These treatments include laser peels, thermal toning, laser tattoo removal, laser hair reduction, skin tightening, acne, pigmented lesions, vascular lesions, wrinkles, stretch marks, and more.

To learn more about the most versatile platform device revolutionizing the aesthetic industry, click here or below to access the pre-recorded webinar featuring the Astanza EthereaMX.




ACCESS THE WEBINAR
Learn More | Read about the Etherea MX | Download the product brochure