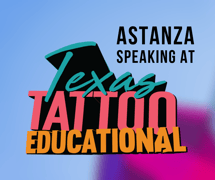 Astanza is so excited to speak at the Texas Tattoo Educational conference October 7-8 in San Antonio, TX!

During this conference, Astanza will share how laser tattoo removal is shaping the tattoo industry and helping artists grow their businesses.


What is the Texas Tattoo Educational?
The Texas Tattoo Educational conference is a 2-day seminar geared towards continued education for career-driven tattoo artists. Artists travel from across Texas and the US to learn from other industry professionals how they can improve their craft while growing their business. Texas Tattoo Educational will feature presentations from tattoo artists and other industry leaders. Click here to learn more about the conference.

How Does Tattoo Removal Affect Cover-Up Tattoos?
Tattoo shops are the first and best point of contact for clients who contemplate getting a cover-up tattoo. By offering laser tattoo removal in-house, tattoo artists can also be the best choice amongst competitors for delivering a full-service tattoo fading or removal then cover-up solution. During our presentation, we'll outline the benefits laser tattoo removal provides for cover-up tattoos and why lightening a tattoo before a cover-up is the best solution.

A few things we'll cover:
- How cover-ups without removal can limit new design and size
- Selective removal vs. complete removal
- Lightening before covering up an old tattoo

We'll explore the various ways laser tattoo removal and strategic ink fading improves the quality of cover-up artwork. Also, we'll share how this procedure helps increase revenue for tattoo shops. Tattoo shops quickly became the go-to solution for removals, fading, and cover-ups because they simplify the entire process for their patients by turning their business into a one-stop-shop. Learn more about laser tattoo removal from tattoo shops here.

Event Information
Texas Tattoo Educational
October 7 - 8, 2019
Norris Conference Center
618 NW Loop 410 #207
San Antonio, TX 78216

Contact the Event: email info@textatedu.com or call (210) 908-5855
Learn more about Texas Tattoo Educational: https://www.textatedu.com/

Learn More Before Texas Tattoo Educational
Too excited to wait for the Texas Tattoo Educational? Join Astanza for our exclusive Tattoo Artist Open House / Pre-Party Sept. 12, 2019, 5:00 - 9:00 PM CST! We're opening our Dallas headquarters to tattoo artists and shop owners for a night of tattoo removal talk, laser demos, and free tattoo removal sessions the night before the annual Dallas Art & Tattoo Expo in Irving! The Pre-Party is sponsored in part by Texas Inked Magazine and the Dallas Art & Tattoo Expo. To RSVP, DM @astanzatattooremoval on Instagram, text (469) 759-3832, or email RSVP@astanzalaser.com.