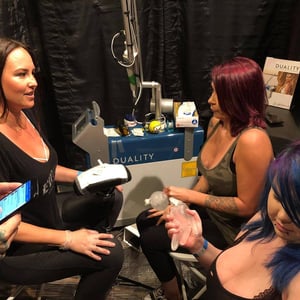 Recently, Astanza had the opportunity to participate in the Hell City Tattoo Festival in Phoenix, Arizona. Hundreds of talented tattoo artists, vendors, painters, and industry experts came together to celebrate body art, body modification, and other tattoo related services.
Hell City is one of the nation's largest tattoo conventions and features fun and unique acts, from live performances, live acts, live tattooing, and live laser tattoo removal. Astanza partnered with Inked Magazine and San Diego's Evolve Tattoo Removal to conduct a few live Astanza Duality laser tattoo removal sessions on Inked Magazine's Facebook LIVE channel.
---
During the Facebook LIVE video, viewers had the chance to ask questions about the procedure, performed personally by Holly Della Vedova, owner of Evolve Tattoo Removal and Guru Tattoo. Below are answers to some of the most frequently asked Facebook LIVE questions.


Click here or on the image below to watch the video: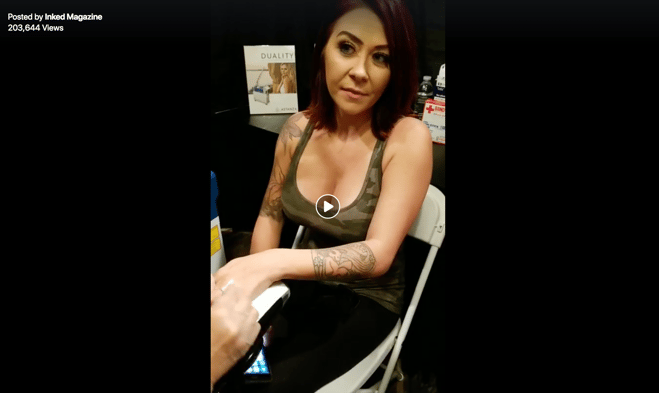 1. How much does laser tattoo removal cost?
Laser tattoo removal treatments are typically priced per session with the average tattoo removal treatment priced around $200 to $225. While all clinics have their own pricing strategy, most tattoo removal providers base their treatments off the size of the tattoo being treated. For more information on how to price your laser tattoo removal treatments, read this blog.
2. Where can I find a laser tattoo removal practice?
Astanza Laser has clients throughout the nation and even internationally. To get connected with an Astanza practitioner, fill out the form on this page and we'll connect you with the nearest Astanza Laser provider in your area.
3. Does laser tattoo removal hurt?
Most patients that get laser tattoo removal compare the sensation to a rubber band being snapped against their skin. Patients with a lower pain tolerance have said the laser feels similar, if not worse, to getting a tattoo applied. Luckily, laser tattoo removal is a very quick procedure that lasts a fraction of the time it takes to apply a tattoo. Majority of laser tattoo removal practices provide a numbing solution such as ice packs, numbing creams, or the Zimmer Cryo to numb the skin and alleviate any discomfort from treatment.
4. How does laser tattoo removal work?
The laser tattoo removal process is fast and effective. You can see real time fading of tattoos in the LIVE Facebook video. During the procedure, our Duality laser sends wavelengths of light energy onto the unwanted ink and targets the ink particles trapped in the skin's dermis layer. The ink absorbs the light energy, heats up, and shatters upon impact. Those broken ink particles are then naturally removed by the body's immune system over the weeks following each treatment.
Patients will see significant fading after their first treatment. Multiple laser treatments are needed to target the varying layers of ink in the skin, starting with the shallowest layer and working down to the deepest. Each treatment session breaks up the ink particles into tinier fragments, essentially speeding up the fading process until the patient's desired look is achieved.
---
More and more tattooed individuals are using laser tattoo removal to not only completely remove unwanted ink but also fade existing tattoos in preparation for a tattoo cover-up and selectively removing ink from a larger piece while leaving the surrounding ink untouched.
Astanza had such a great time attending Hell City with Inked Magazine and Evolve Tattoo Removal and can't wait for next years convention. For more information about laser tattoo removal or to get connected with an Astanza Representative, visit our contact page.

If you are looking to get a tattoo removed, click here and we will connect you with an Astanza laser tattoo removal specialist.
Check out these other resources from Astanza: