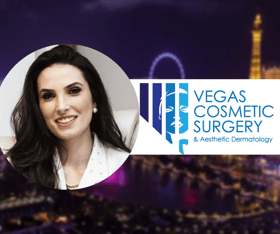 At the Vegas Cosmetic Surgery show (VCS) on June 6, 2019, Dr. Juliana Jordão, a world-renowned dermatologist from Brazil, discussed why aesthetic platforms, such as the Astanza EthereaMX, are increasing in popularity and why many plastic surgeons and dermatologists, such as herself, are moving toward primarily utilizing a platform system in their own practices.

Exclusive access to Dr. Jordão's recorded presentation, including footage of her live treatments performed during VCS, is now available to the public.
Click here to view the presentation.
Dr. Jordão provided information about the most popular treatments that she regularly performs and detailed protocols and case results that she is achieving for patients.
Discussing the EthereaMX's treatment indications and versatility, Dr. Jordão focused on the ProDeep handpiece's unique Nd:YAP 1,340 nm wavelength that is commonly used for more effective non-ablative skin resurfacing. She detailed how the ACROMA-QS and LongPulse handpieces can be combined in a single session to more effectively treat pigmented lesions, rosacea and provide general laser toning. Dr. Jordão also shared how the IPL-SQ and DualMode (Er:YAG 2,940 nm) handpieces can achieve deeper, more controlled dual-effect fractional skin resurfacing when used together.
Click here to download Dr. Juliana Jordao's presentation from the 2019 Vegas Cosmetic Surgery and and learn how the EthereaMX's versatility and advanced technology are revolutionizing the way practitioners can treat their patients.
Astanza EthereaMX
The Astanza EthereaMX is transforming the aesthetic industry by providing treatments for the most popular aesthetic laser procedures using just one platform device. The EthereaMX uses seven interchangeable handpieces, and 5 unique wavelengths to perform over 70 FDA-approved treatments. Practitioners are able to treat all skin types safely and effectively using adjustable spot sizes, advanced optical precision, and next-generation safety features.
Developed with laser expertise and aesthetic knowledge accumulated over years of experience, the EthereaMX delivers proven solutions that guarantee optimal results and ensure maximum uptime.
To learn more about the most versatile platform device revolutionizing the aesthetic industry, click here or below to access the presentation video and PDF featuring the Astanza EthereaMX.