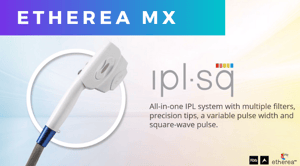 Med Spas and other aesthetic laser clinics have been receiving an influx of patients searching for popular IPL treatments. These treatments are sources of steady repeat business, and clinics can meet rising demand and deliver better results with the Astanza Etherea MX's most popular handpiece, the IPL-SQ®.

IPL treatments have quickly become some of the most sought-after aesthetic treatments on the market. The most common IPL treatments include IPL photofacials, hair removal / reduction, epilation, as well as the treatment of active acne, superficial vascular lesions, pigmented lesions, warts, scars, and other benign lesions.

As more patients continue to search for non-invasive skin solutions, these IPL treatments are becoming hot commodities for med spas and laser clinics. Astanza Etherea MX's IPL-SQ®️ handpiece is the perfect upgrade for any practice that is interested in expanding their services with popular IPL treatments.




The IPL-SQ® stands apart from other traditional IPL technology thanks to its proprietary Square-Wave Pulse® technology, minimizing the risk of undesired side effects. Most IPL systems discharge energy freely (meaning the energy is stronger at the beginning of the pulse and weaker at the end), delivering an inconsistent pulse to different parts of the skin during treatment.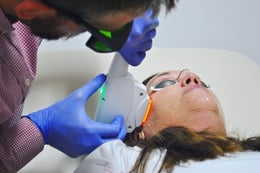 However, the IPL-SQ®'s Square-Wave Pulse® technology delivers controlled and micro-processed energy for uniform discharge throughout the entire pulse.

With consistent energy output, patients benefit from a more even treatment, delivering the same desired result across the whole canvas of treated skin. This significantly decreases the risk of undesired side effects and provides better, safer, and more effective results across all of the IPL-SQ®'s treatment indications.

The IPL-SQ® comes with five unique cutting filters (400, 540, 580, 640, and 695 nm) and features unique VASCUTIPSTM designed to treat less accessible regions and more localized lesions. All of the filters and VASCUTIPSTM deliver safe and effective treatment for all skin types, even darker skin tones (Fitzpatrick types IV-VI). The IPL-SQ® also features an integrated sapphire contact-cooling tip to increase patient comfort during each treatment.

The IPL-SQ®️ is just one of seven different interchangeable handpieces used with the Astanza Etherea MX, and is the perfect addition for helping med spas and other laser clinics expand their patient reach by providing a wider range of treatments. To learn more about the most versatile aesthetic platform device, the Astanza Etherea MX, and its IPL-SQ® handpiece, click here or below to view the pre-recorded webinar. This webinar is free to view.