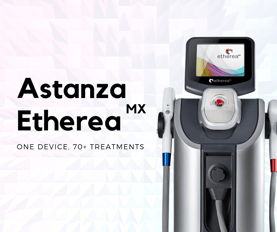 Astanza is thrilled to announce the newest addition to our line of leading aesthetic lasers: The Astanza EthereaMX!

Since its introduction to the market in 2007 in Brazil, the EthereaMX has been revolutionizing the aesthetic industry by providing over 70 treatments through 7 different handpieces and 5 total wavelengths.

Read more to learn about the Astanza EthereaMX and sign up to view the exclusive Astanza EthereaMX Webinar for a closer look.

"We are excited to partner with Vydence Medical to introduce the

Etherea

MX to the United States. Vydence is the premier medical device manufacturer in Brazil, the world's second-largest market for aesthetic procedures, and is a worldwide leader in laser research and development," said David Murrell, Astanza Laser President.

"Welcoming the

Etherea

MX to our line of products was an easy decision. Astanza is constantly looking for ways to expand and stay at the forefront of the aesthetic industry and the team at Vydence has delivered the gold standard laser platform. Our newest laser allows us to continue to support our number one priority - our clients - through the growth of their businesses and services."

The Etherea has gained fame for offering over 70

FDA-cleared

treatments, including treating pigmented lesions, vascular lesions, acne, wrinkles, and performing tattoo removal, skin tightening, laser peels, thermal toning fractional subdermal rejuvenation, and much more.





Each of the Etherea's 7 handpieces is equipped advanced optical precision, adjustable spot sizes and enhanced safety measures. With these updated handpiece features, the Etherea is able to treat any patient regardless of skin or hair type, and has improved safety technology in place to better treat darker skin types (IV - VI).

To learn more about the Astanza EthereaMX, join us for an exclusive webinar where our field experts will showcase real Etherea treatment videos and dive into the Etherea's technology and wide range of treatment indications that are revolutionizing the aesthetic industry. Registrants will be sent a recorded version after the live-stream - Click below to sign up to view the webinar!

Read the full press release here.