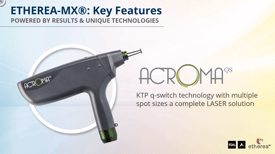 Portable laser tattoo removal is here to stay! For a long time, it's been perceived that tattoo removal lasers needed to be stationary and not moved around much due to calibration issues. The myth that tattoo removal lasers have to be stationary has changed recently with the evolution of products such as the Etherea MX. The EthereaMX is fast becoming the first choice in laser technology for on-the-go practitioners, tattoo artists, and more!

Keep reading to learn about the latest in laser tattoo removal technology, the Acroma handpiece, and how it's changing the industry's view on portable systems.


What is the Acroma handpiece?
The Acroma handpiece is a dual-wavelength Q-switched laser (1064 nm fractional Q-switched Nd:YAG laser with 532 nm KTP handpiece) used for safe and effective laser tattoo removal and treating pigmented lesions. The Acroma has been making waves in the aesthetic industry with technology proven suitable for darker skin types. This handpiece is used in conjunction with the Etherea MX platform system.



Why is it portable?
The Acroma is actually one of seven interchangeable handpieces that connects to the Etherea MX. All seven handpieces combined perform over 70 treatments, making the Etherea itself the most versatile aesthetic device on the market. The Etherea MX itself acts as the "platform," for the handpieces, while the unique technology used for the differing procedures is actually housed in the handpieces.

Because the handpieces are "plug-and-play," they can be switched out whenever and wherever the practitioner wants. This means a traveling tattoo artist can pack up their Etherea MX and Acroma handpiece and travel back and forth between clinics, trade shows, their own shop, etc. to serve each of their clients without spending time recalibrating their device. (Most tattoo removal lasers are stationary and must be recalibrated when moved.)

Other Uses
While the Acroma is perfect for laser tattoo removal, it can also treat several types of pigmented lesions. The Acroma effectively treats nevus, café-au-lait spots, lentigo, melanosis, freckles, post-inflammatory hyperpigmentation, seborrheic keratosis, and performs fractional non-ablative skin resurfacing.

Because of its low absorption by melanin and inherent photoacoustic effect, using the Acroma handpiece is a safe and effective option for treating patients with darker skin tones.

Need more information?
The Acroma handpiece is just one of seven different handpieces used with the Etherea MX, the most versatile aesthetic laser platform capable of performing over 70 FDA-cleared treatments. If you're interested in learning more about the Acroma handpiece, the Etherea MX, or how the Etherea MX can grow your aesthetic business, click here to view the pre-recorded webinar, Astanza Etherea MX: One Device, Seven Handpieces, 70+ Treatments. This webinar is free to view.

More resources:
- Download the Acroma handpiece brochure
- Download the Etherea MX brochure
- Access the pre-recorded Etherea MX webinar