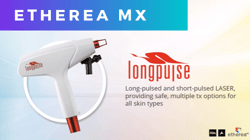 Med spas and physicians are receiving more and more inquiries from patients looking for vascular laser treatments. Thanks to recent advancements in vascular technology, practitioners can now meet patient needs and exceed expectations using the LongPulse handpiece featured on the Etherea MX versatile aesthetic platform device.
What is the LongPulse® Handpiece?
The LongPulse® handpiece, one of Etherea MX laser's seven handpieces, is an Nd:YAG laser with variable pulse modes used to treat patients with unwanted vascular lesions effectively. This handpiece delivers the perfect combination of wavelength, duration and pulse energy density for non-invasive removal of deep and superficial vascular lesions located on the face and lower limbs. The Nd:YAG 1064 nm wavelength deeply penetrates the layers of skin, making this wavelength the perfect solution for targeting vascular lesions and even deeper vessels.

Variable up to 60 ms, the LongPulse® handpiece's longer pulse times result in prolonged heating of the targeted vessel without affecting the surrounding tissue. That means greater clinical efficacy, treatment safety, and lower risks of unwanted adverse side effects for both patients and practitioners.

The LongPulse® spot sizes (diameters of 2, 3, 6, and 9 mm) matched with a maximum fluence of 500J/cm2 offers unparalleled treatment and the ability to adapt for vessels and veins of varying sizes and depths.

Growing Your Business with LongPulse Treatments
Treating vascular lesions has become an increasingly popular request at med spas and physician offices. In addition to performing safe and effective vascular treatments on the face and lower limbs, the LongPulse handpiece is also capable of treating various in-demand skin and nail procedures with the Dynamics® technology built into the LongPulse handpiece.

Dynamics® technology is critical for successfully performing a range of clinical and aesthetic procedures, including treating onychomycosis (toenail fungus), enlarged pores, light wrinkles, skin texture, rosacea, and other mild vascular lesions.


Need More Information?


One of seven handpieces used with the Etherea MX, The LongPulse

handpiece helps make the Etherea MX the most versatile aesthetic laser platform

on the market. In fact, the Etherea MX is

capable of performing over 70 FDA-cleared laser treatments. To learn more about the LongPulse handpiece,

Etherea MX,

or how the Etherea MX can grow your aesthetic business,

click here to view the pre-recorded webinar, Astanza Etherea MX: One Device, Seven Handpieces, 70+ Treatments. This webinar is open to the public and free to view.

More resources:
- Download the LongPulse handpiece brochure
- Download the Etherea MX brochure
- Access the pre-recorded Etherea MX webinar