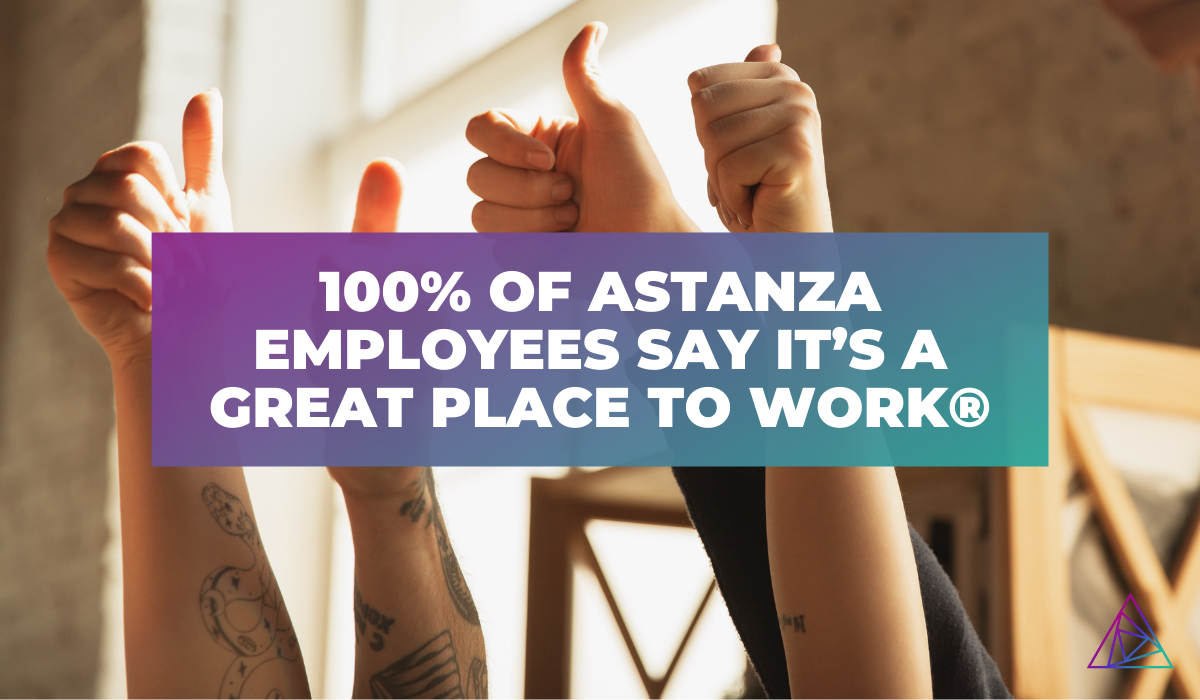 Astanza is very happy to share that we have been Certified™ by Great Place to Work® for the second year in a row! We are very proud of this certification because it confirms that our employees enjoy coming to work every day and that Astanza has established a strong brand culture and positive work environment.
Great Place to Work® is the global authority on workplace culture. Since 1992, they have surveyed more than 100 million employees worldwide to determine what makes a great workplace. Certification™ is achieved solely on what employees report about their workplace experience through the confidential Trust Index© survey. Great Place to Work®'s Trust Index survey provides company leaders with feedback, real-time reporting, and insights to make data-driven decisions to improve their organization and employees' happiness.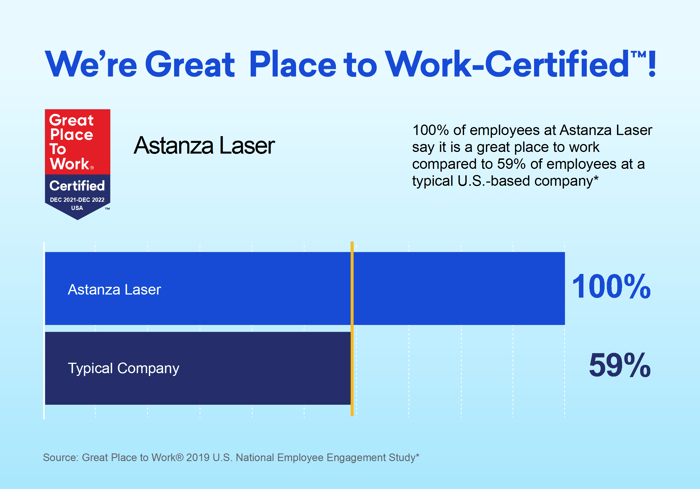 Every year, more than 10,000 companies across 60 countries apply to get Great Place to Work Certified™ and Astanza is exceptionally proud to be one of the numerous companies to receive recognition. This year, 100% of Astanza's employees participated in the survey, resulting in a 97% Trust Index score, landing Astanza in the top 5% of certified companies nationwide!
What makes Astanza a Great Place to Work®?
First and foremost, we want to thank the employees who make up our Astanza family. Thank you for sharing your honest feedback about Astanza, our management team, and how we can improve. Scoring a 97% Trust Index© score from our employees isn't just a means to celebrate; it's a chance to listen and hear what our employees have to say, to learn from their answers, and continuously work towards building an even better workplace.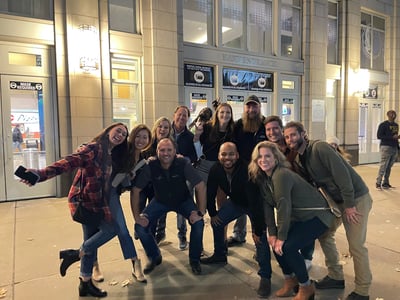 The past few years we've improved our workplace culture by implementing initiatives such as Personal Development Plans, BetterBookClub, Fun Fridays, and going to see the Dallas Stars hockey game for our holiday party.
Personal Development Plans give Astanza employees dedicated time to invest in themselves. For example, employees can set aside time during their workday to watch a webinar, read a book, take training of some sort, or participate in an activity that will help progress their personal goals.
The BetterBookClub is a reading platform Astanza uses to reward employees for reading. Employees can read from a library of selected books based on our industry, client success, company culture, team building, and more, and are then rewarded with fun incentives like gift cards. In addition, Fun Fridays boost employee morale through exciting activities like potlucks at our headquarters, daily nerf gun battles at the office, and virtual games like Jackbox.tv to include our remote employees.
At Astanza, having a happy team means better business results and stronger client relationships. Astanza was only able to achieve such a high Trust Index© score thanks to our employees living out our core values day in and day out. We've developed a fun, unique culture that's centered on communication, honesty, and fun, and we're honored our employees agree!
Join the Astanza Team – We're Hiring!
Want to work for a company that prioritizes excellent culture? Our fast-growing team is looking for hard-working, driven individuals who are passionate about helping people and changing lives through the world of laser aesthetics. Check out a few of our available positions below:
Inside Sales and Account Manager
Astanza's inside sales team is looking to add another member who prioritizes customer service and is comfortable establishing and managing high-level accounts. If you've got a competitive spirit and passion for client success, then apply for our Inside Sales and account Manager position today!
Biomedical Engineer/Laser Service Technician
Astanza has received numerous accolades for our award-winning service, and much of that is owed to our exceptional team of service engineers. As a service engineer, you will work closely with Astanza clients to ensure their lasers are in tip-top shape. Become a troubleshooting guru and travel around the world in this hands-on role!
Digital Marketing Manager (SEM/SEO/PPC/PAID SOCIAL)
Astanza's award-winning marketing team is looking for a Digital Marketing Manager to join our fun-loving, client-driven team. As the Digital Marketing Manager, you will develop, implement, track, and optimize Astanza's and our clients' paid search and advertising campaigns. Lead the venture in acquiring new leads and growing Astanza's family of clients!
For more information or to see the full list of job openings, visit our career page!