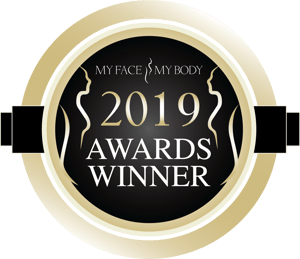 On November 25, 2019, the MyFaceMyBody Awards winners were announced and out of the hundreds of international entries, Astanza is thrilled to announce that we won three awards out of 54 categories!

MyFaceMyBody is the largest, most recognized aesthetic industry awards program and recognizes various aesthetic businesses, brands, and individuals around the world. For the past eight years, the awards program was limited to a handful of large cities, including London, Los Angeles, and Sydney. However, this year's virtual awards expanded the program's entries to all countries.
"Each year, we receive hundreds of inquiries from professionals and practices to run the MyFaceMyBody awards in their respective countries. We wanted to make this a reality. For eight years we have provided the industry with our respected and credible awards, and it was time to celebrate and recognize the amazing work of aesthetic practices, individuals and brands in all countries," said Mr. Stephen Handisides CEO of MyFaceMyBody and GVAS. "So, in a brave new world, the 2019 MyFaceMyBody Global Aesthetic Awards went virtual as we announced the winners using the latest technology in live video streaming."
Keep reading to learn more about each of the three categories that Astanza won an award for.
---
1. Marketing/PR Campaign of the Year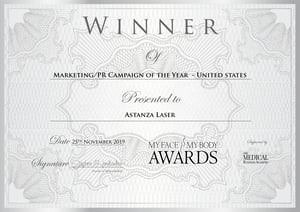 Astanza won Marketing/PR Campaign of the Year for our National Tattoo Removal Day campaign. Through this campaign, Astanza created a recurring national day on August 14th for laser tattoo removal businesses, practitioners, technicians, and patients to celebrate.
The primary campaign goal was to increase public awareness about the laser tattoo removal process throughout the United States. Additional benefits of the campaign included increasing exposure for participating Astanza clients, dispelling myths about laser tattoo removal, creating a favorable impression of tattoo removal, and recognizing laser tattoo removal patients, practitioners, and businesses throughout the United States. This campaign not only benefited our clients but the entire aesthetics industry, specifically laser tattoo removal providers.
We hope that this widespread attention will continue to grow with the coming years and encourage more entrepreneurs, laser technicians, physicians, and tattoo artists to enter the laser tattoo removal industry. Furthermore, we hope National Tattoo Removal Day gives patients with tattoo regret the final push they need to commit to removing their unwanted ink.
2. Customer Service Support of the Year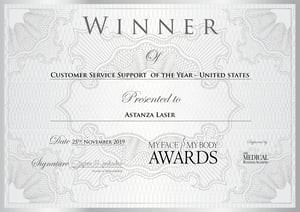 Astanza won Customer Service Support of the Year for incorporating a VIP client experience across our four core pillars: Service, Training, Marketing Support, and Technology. We provide the highest customer service support across each of our pillars and throughout every client experience and interaction.
Our technical support is unrivaled, and many of our clients can attest to that. We protect our clients' laser investments with the most comprehensive warranty in the industry, which includes a 3-day business day service guarantee. Couple that with lifetime training and clinical support and you have a winning combination.

Our service engineers are all Biomedical Engineers who are highly knowledgeable in physiology and laser physics, which are essential when training new Astanza clients. Astanza service engineers spend several days visiting each new client to teach and onboard their staff members.
Our excellent customer service and training support doesn't happen just in a client's office. Our free lifetime training and clinical support allow clients to directly communicate with our service and training teams via personal video conferencing through Skype, FaceTime, Google Hangouts, and other methods for virtual diagnostics, assessments, and training.
Furthermore, Astanza's extensive marketing support lays a strong marketing foundation for any business looking to succeed in the aesthetic industry. Astanza's Business Builder system provides foundational support to ensure a fast start at the beginning stage of your business and starts you off with 60 leads in 60 days, including business and marketing strategies.

Our marketing team writes original, custom website content, offers website creation, press release writing and distribution, Google AdWords setup and management, creative design projects, and much more. Astanza hosts a minimum of 4 client webinars throughout the year to inform clients about company-wide updates, upcoming events and tradeshows, exclusive client discounts, and more.
At Astanza, we show our dedication and provide excellent customer service by treating our clients like family.
3. Training Support of the Year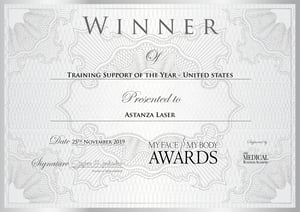 Astanza won Training Support of the Year for the consistent world-class training and support we provide to our clients. One of the most critical aspects of the support that Astanza provides is that we meet clients where they are. We understand that each client has differing needs, and while some clients prefer on-site training, others want to come to our headquarters for more in-depth training. To attend to each client's needs, we offer clients free lifetime training at our Dallas headquarters, and for those wanting us to come to them, we offer a paid a la carte training model as well.
Our training division, New Look Laser College, provides in-depth lectures and hands-on training and support for people interested in becoming laser tattoo removal specialists.
Astanza's unparalleled focus on training is evident in our clients' success.
At Astanza, we put an emphasis on service, training, marketing support, and customer support, so we feel incredibly honored to be recognized for awards that embrace all that we stand for.
---
We want to congratulate MyFaceMyBody Awards for hosting yet another amazing awards program and for the first of many successful live video award streamings.
We also want to thank everyone who voted for us and especially thank all of our clients! We could not have won these categories if it weren't for our clients. We are honored to win such prestigious titles and will continue working hard to exceed our training, marketing, and customer support for years to come.