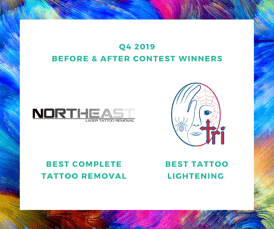 We're so excited to announce the winners of our 2019 Q4 Before & After Photo Contest! We had a lot of great entries but two stood out in particular. Congratulations to Northeast Laser Tattoo Removal for winning the Complete Tattoo Removal category and Tattoo Removal Ink for winning theCover-Up/Lightening category of Astanza's Q4 Before & After Photo Contest!

Last year, Astanza held its very first client-exclusive before and after photo contest to reward our laser tattoo removal clients for the amazing results they've achieved with Astanza technology. Two winners were chosen each quarter for the following categories: "Best Cover-Up/Lightening Photo" or "Best Complete Removal Photo."
---

Northeast Laser Tattoo Removal is one of the leading tattoo removal specialty shops in Milton, VT. They provide quality, full-spectrum tattoo removal results at an affordable price using the Astanza Trinity triple-wavelength laser system. The veteran-owned practice focuses exclusively on removing unwanted ink and provides a relaxing, judgment-free environment. Northeast Laser Tattoo Removal performs complete tattoo removal, fading for cover-ups, and selective removal for patients of all skin types. View Northeast Laser Tattoo Removal's winning complete tattoo removal photo below:

Tattoo Removal Ink is a non-profit in Northern Kentucky that provides free removal of jail, gang and human-trafficking tattoos from the formerly-incarcerated, former gang members, and victims of human trafficking. They use the Astanza Trinity to safely and effectively remove all tattoo colors from all patient skin types. Tattoo Removal Ink hopes to give back to their community and help certain individuals receive a new lease on life with their free tattoo removal services. Like the photo below, many patients choose to fade an existing tattoo to prepare for a cover-up tattoo. View Tattoo Removal Ink's winning tattoo removal lightening photo below: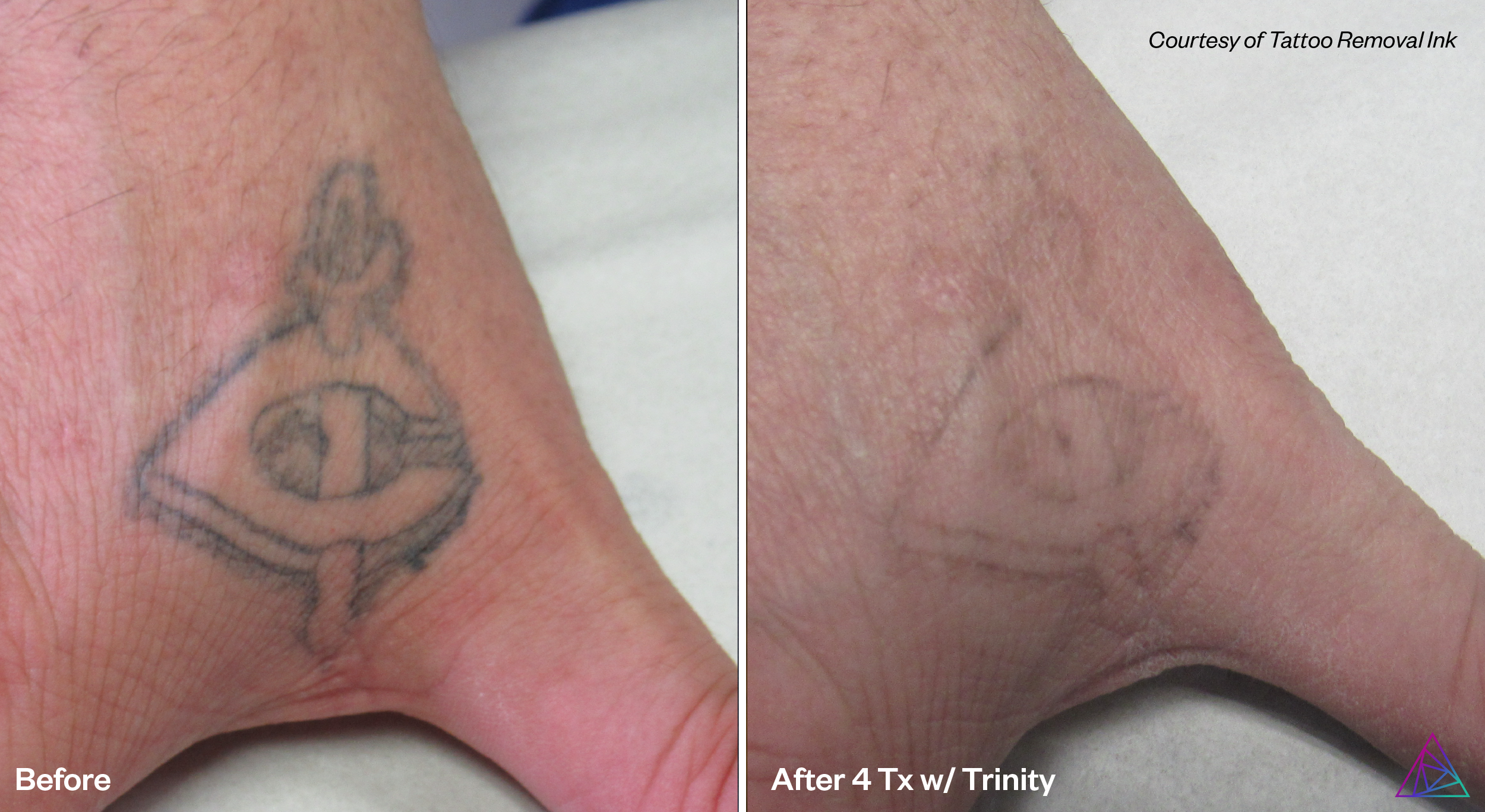 We'd like to thank all the Astanza clients who participated in our 2019 Q4 Before & After Photo Contest. Astanza's 2019 Before and After Contest was a huge success thanks to our laser tattoo removal clients' participation.
---

Build an Impressive Results Portfolio with RxPhoto:
Patient Photography Software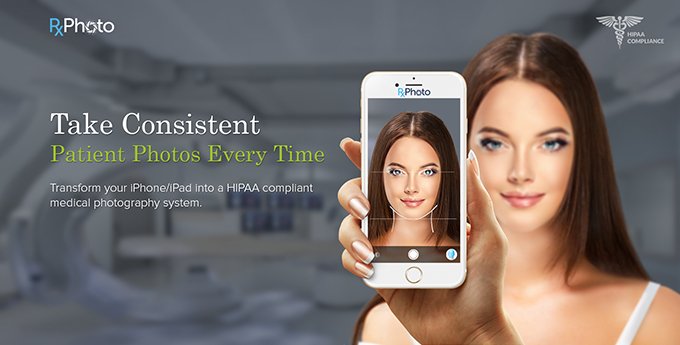 Interested in enhancing your before and after photos? Want to get consistent patient photos every visit? Then RxPhoto may be the solution for your practice.

RxPhoto is the leading clinical photography app that allows aesthetic practice's to capture, store, organize, edit, and showcase the best progress photos for their aesthetic treatments. RxPhoto, a HIPAA compliant patient photography software, is the perfect tool for tattoo removal clinics, plastic surgeons, medical spas, and dermatology clinics to better track patient progress and build an impressive portfolio of results photos that will leave a lasting impression on both existing and prospective clients. Astanza is currently offering an exclusive subscription discount for Astanza clients only. Contact your Astanza Laser Account Manager for this special discount.

Need More Photo Tips?
During an exclusive webinar, Mastering Before and After Photos to Grow Your Aesthetic Business, Astanza Marketing Specialists share useful tips, tricks, tools, software, and more to help your aesthetic laser business curate the best photo portfolio. Click here or below to access the webinar and learn how to master before and after photos and leverage them to earn more paying clients. This webinar was previously recorded and is free to view.


---
This contest is only open to Astanza Laser clients. If you are a patient interested in tattoo removal or other laser services performed with Astanza technology, visit our provider page to find an Astanza provider near you!