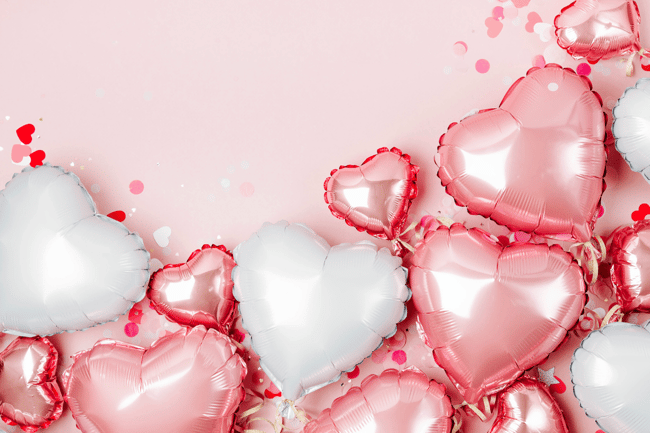 Valentine's Day is almost here! Aesthetic clinics across the country, regardless of the treatments they provide, can capitalize on this lovely holiday to develop competitive pricing, packages, promotions, and more to keep their clients coming back long after the roses and heart-shaped candies are gone! Keep reading for a few fun ways to incorporate Valentine's Day into your aesthetic clinic's marketing and sales promotions this season (or plan for next year!). Of course, these are just a few ideas to help get your wheels turning - find some inspiration and tailor these promotions to best suit your business's sales goals.
Want more ways to level-up your business's marketing and sales this year? Click here to watch the pre-recorded webinar, "10 Marketing Tips for Your Aesthetic Business!"
BOGO Laser Hair Removal Areas
Thanks to its long-term cost and time savings, laser hair removal is a perfect way for patients to show themselves some love this season! Laser hair removal is one of our favorite treatments to help businesses market because it's incredibly versatile, advantageous, and easy to sell and bundle. We call this one "The Valentine's Day gift that keeps on giving!"
Try promoting a BOGO sale for this popular aesthetic treatment: "Buy One large Area of Laser Hair Removal, Get a Small Area for Free!" For example, your clients can bundle a session for the legs or back with a free bikini area or underarms treatment! Not only will your clients be excited to get a complimentary treatment, but they'll also be much more likely to continue paying for treatment for that complimentary for continued treatment on the complimentary area they received. Click here to learn more about the preferred laser hair removal device among leading plastic surgeons and med spas, the MeDioStar diode laser.
Leave a "Love Note" for a Special Valentine's Day Gift!
Business owners know that strong reviews are crucial for earning new clients in the aesthetics industry. To help, consider running a promotion encouraging your clients to leave you "love notes" on Google, Yelp, and Facebook during February to receive a special something! In return for expressing their support, you can reward clients by letting them choose from a collection of small (budget-friendly) giveaways and discount options! Brainstorm affordable ways to sweeten your clients' day without breaking the bank (especially if this promotion gains momentum among your clientele).
Also, remember to be strategic when and who you ask to leave a review. A laser tattoo removal patient is more likely to write a review after seeing progress and building brand loyalty with your practice after 4 to 6 treatments compared to a brand new patient.
Kiss-And-Tell Lip Filler Promo
Everyone wants that perfect pout for Valentine's Day! To increase interest in your line of fillers and injectables, try implementing a "Kiss and Tell" referral promotion. Clients can refer a friend for this service to save a percentage on their next visit for filler. Make sure you can easily track which new clients have come in due to referrals from existing clients so you can reward your loyal customers as well.
Red, Pink, and Purple Tattoos Removed at a Discounted Rate
Valentine's Day is full of lovey-dovey hues like red, pink, and purple. These are also prevalent tattoo ink colors! If your clinic offers laser tattoo removal, try running a special discount for patients undergoing laser tattoo removal treatments for red, pink, and purple ink during February. To best remove these ink colors, use the Trinity triple-wavelength laser system. The Trinity laser can remove all tattoo ink colors and is safe and effective for all skin types. Click here to purchase the Trinity or learn more.
You can also modify or expand this February promotion to include the removal of hearts, names, or ring finger ink - all of which are common tattoos that practitioners remove.
Did you know that National Tattoo Removal Day (August 14) falls six months before Valentine's Day because that's the average amount of time it takes to remove a tattoo? National Tattoo Removal Day is another great holiday to incorporate into your marketing efforts to reach more patients (and help them erase unwanted ink before the next V-day rolls around!)
Give Away Gift Bags with Trial Sizes of Your Retail Items
What's sweeter than a Valentine's Day candy gram? Getting treated to a few unexpected gifts! If your clinic sells any retail items in addition to aesthetic services, consider giving away a free goody bag to each client who visits your clinic on Valentine's Day! Perfect V-Day gift bag items include but are not limited to luxury skincare, sunscreen, face masks, at-home treatments, aftercare products, specialty vitamins, skin rollers, and even branded merchandise. If you're trying to be budget-conscious, let your clients and followers know that you have a limited quantity of goody bags via social media and email newsletters. A "first-come-first-serve" approach helps increase client-excitement and urgency!
Don't forget to optimize these sweet giveaways: Include some love notes for your patients, including a hand-written V-Day message, business card, discount codes for the products included, and even a QR code to take clients to the exact place on your website where they can purchase!
Improve Your Clinic's Marketing Year-Round!
Like many other holidays, Valentine's Day gives aesthetic business owners a great list of ways they can optimize their campaigns throughout the year! If you're interested in improving your clinic's marketing, communications, and sales overall, watch our pre-recorded webinar, "10 Marketing Tips for Your Aesthetic Business!" Astanza's Marketing gurus walk you through different ways to get the most out of your marketing by expanding on customer retention strategies, new and traditional social media, leveraging video content, developing a marketing plan, earning reviews, and more! Like all of our educational content in our Aesthetic Resource Library, this webinar is free to view. Click here or below to watch now!
Happy Valentine's Day from Astanza!
(Pass the wine and chocolate!)