Astanza is excited to introduce Rose Focus Tattoo Removal to the Astanza family! This Dallas-based laser tattoo removal practice removes and fades unwanted tattoos using the Duality Q-switched Nd:YAG laser.
Our award-winning marketing team recently visited and interviewed Kristelle Garcia, Rose Focus Tattoo Removal owner, to give you an inside look at the practice (located inside of Controversy Ink Tattoo studio) and understand her vision for Rose Focus and its clients. Keep reading to learn more about this full-service laser tattoo removal practice.
---
Tell us about Rose Focus Tattoo Removal's history.
My boyfriend owns Controversy Ink Tattoo Studio, and we decided together that tattoo removal would be great for our shop. I've been in the tattoo industry for three years as the manager of the tattoo shop, so I've seen and understand how tattoos are put on. I've always been interested in removing them, especially after talking to clients about tattoos they want to remove, like an ex's name. I was a little wary about getting started, but once I got into it, I really enjoyed doing treatments and being able to help clients. I've been offering laser tattoo removal for five to six months now and have helped many clients fade or completely remove their tattoos.
Contrary to popular belief, many inked individuals have tattoos they regret or want to modify. Some people even wish to remove older tattoos to make room for new artwork. Rather than acting as just an eraser, laser tattoo removal is being adopted into more tattoo shops as a transformative editing tool. Check out our pre-recorded webinar, Under the Ink: An Inside Look at Laser Tattoo Removal from Tattoo Shops to hear from other tattoo shops and artists about why they decided to add laser tattoo removal to their studios.
What is your shop's aesthetic? What can customers expect about your shop when they visit?
As for the aesthetic, we wanted to do something different than a normal tattoo shop. We have an artsy feel, but it's also classy. We really wanted to have a Chicano style, which you can see from the paintings on our walls, to reflect our diverse artists.
As you walk through Controversy Ink and Rose Focus, you get a sense of the Chicano cultural style that Kristelle described. The shop itself is very clean and adorned with numerous paintings, posters, and tapestries that represent each artist's style and interests. Check out the video below for an exclusive walk through of Controversy Ink and Rose Focus Tattoo Removal.
What's your partnership with Controversy Ink like, and how do you think laser tattoo removal benefits tattoo artists and clients?
We decided to add tattoo removal to the shop because we had a lot of cover-up clients come in with really dark tattoos and they only had limited options to cover their tattoos. So with laser tattoo removal on-site, we're now able to offer cover-up packages with one of our artists, Ramiro, where clients can fade for a cover-up. Then Ramiro will offer $50/hour for tattooing versus his normal $150/hour pricing. I'm most excited about getting the business ramped so I can help people; that's what I've always enjoyed doing. And being able to help our artists deliver better cover-ups and help people get rid of tattoos they don't want anymore.
The partnership between Rose Focus Tattoo Removal and Controversy Ink is the perfect example of why tattoos and tattoo removal are better together. A vast number of tattooed people experience tattoo regret and wish to cover their existing ink with a new design. However, even the most talented artists have trouble covering a tattoo with heavy, black pigment. With laser tattoo removal, artists are able to fade a tattoo down to create a cleaner canvas to work on. Laser tattoo removal helps artists and their clients remove limiting factors like size and color to deliver a tattoo they'll actually love.
Why did you choose Astanza technology?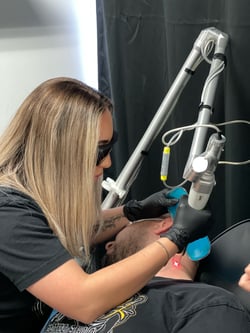 When I researched lasers and came across Astanza, I googled a few other devices but ultimately came back to Astanza because their customer service is great. They helped me learn everything about the laser, and the training was amazing.
Astanza takes great pride in the customer service we offer to our clients. From our thorough training and installation, honest and trusted consulting with our team of laser experts, to our award-winning marketing and service support, Astanza is the preferred choice of laser businesses worldwide.
What is a changing lives moment you've had thanks to laser tattoo removal?
A changing lives moment for me was when I had a client come in with microbladed eyebrows. She really didn't like how they came out, and since they were on her face, it really affected her. She had to always cover them up with makeup, and it didn't look right. She was very distraught about them. I was able to help her completely remove the eyebrows in about four sessions, and now she's able to get them redone the way she wants them and feel more confident in herself.
More laser tattoo removal providers are seeing an influx in permanent makeup removal requests, making this another great reason to add laser tattoo removal to your business. Not only does offering permanent makeup removal help you target a large demographic, but it will increase your revenue as well.
Interested in booking an appointment at Rose Focus Tattoo Removal? Call (646) 221-4925 or visit their website to schedule a free consultation. Don't forget to follow them on Instagram and Facebook too!
Questions? Ready to open your own laser tattoo removal business? Contact Astanza today! One of our experts will be more than happy to answer all your questions and show you the roadmap to launching your own laser tattoo removal business with ease.