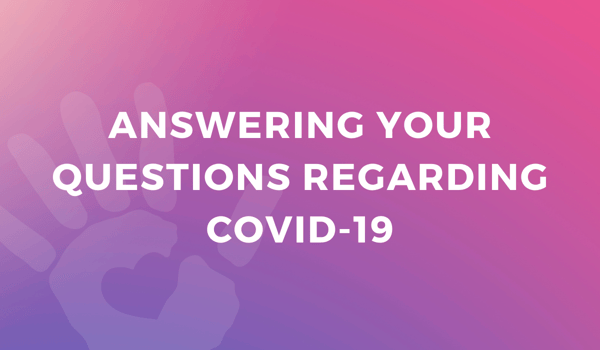 Many small businesses have experienced changes to their regular operations due to COVID-19, especially med spas, laser clinics, plastic surgery centers, tattoo shops, and other aesthetic clinics. We recently held a live webinar and opened a Q&A session, offering insights to these business owners as they navigate tough times. Below, read viewers' questions regarding COVID-19's impact on their businesses, as well as and Astanza's responses.

Click here to watch the free, pre-recorded webinar, Navigating Tough Times: Insights for Aesthetic Practices Regarding COVID-19.
"If an employee can make more money staying home (collecting unemployment benefits), how do you motivate them to come back to work?"
ANSWER: It's true that some workers may earn more money collecting unemployment if they've lost their job due to COVID-19. Hopefully, the people on your team enjoy coming to work at your place of business and are eager to return (if they're not, this may be a good time to think about who's on your team). We know this is a reality many aesthetic clinic owners currently face. It may be helpful to reinforce with your staff that unemployment benefits are only temporary and are not a solid long-term financial plan. Hopefully, employees would hate to be the last person to look for a job after the COVID-19 crisis ends - jumping back into a smaller job pool with fewer options.

However, everyone's financial situation will be different, even among your team. As everyone experiences this uncertain time, we have to remember that every employee has someone they support financially (whether it be themselves or family). Approach these conversations with understanding and evaluate on a case-by-case basis.
"Any tips on how to bring in revenue while closed? I do tattoo removal, and I'm currently I'm offering virtual consultations at no cost. In my experience, if people do not receive the service the same day (as the consultation), they do not pay for it later."
ANSWER: Virtual consultations are a great option to keep people interested (as long as you're staying HIPPA-compliant). If you're able to and already have items in stock, we recommend selling retail items and other branded merchandise to keep your stream of revenue flowing. From skincare to t-shirts, it all counts. Take this time to optimize your online store and improve your customers' experience if necessary. Consider offering a discounted service when someone purchases a full-price retail item to encourage people to return once you're able to reopen. Alternatively, you can provide a free retail product when someone pays for a service to fulfill later.
"What should I tell customers who've already pre-paid for treatment sessions but now have to postpone or reschedule?"
ANSWER: Implement a "virtual waitlist"! Use a virtual waitlist as a way to say thank you to the clients who have already prepaid and done you a favor by giving you cash up front (which you might be relying on right now).

Allow the people who've already prepaid for their treatments to have first dibs on selecting their new dates - in the order that they originally paid. For example, if someone paid for their treatment package on February 2nd, they get to pick their new appointment times before the person who paid on February 3rd. Show your customers that you appreciate them and reward them for being awesome repeat clients.
"What should I tell customers who've already pre-paid for treatment sessions and have asked for a refund?
ANSWER: If possible, grant a refund. Negative online reviews for not issuing a refund during these uncertain times can hurt your business in the long run. Consider partial refunds. Importantly, be honest with your customers. You're a small business, and we're all grappling with similar circumstances, trying to preserve funds.

If you issue refunds to clients during this time, be sure to document these occurrences. Documenting any economic damages due to COVID-19 may help your business qualify for financial relief programs. Note that this may vary per business or state.
Resources for Business Owners
Business Continuity and COVID-19 Updates
If your business needs financial assistance due to COVID-19, look into various government relief programs available during this time through the SBA, including Paycheck Protection Loans, Economic Injury Disaster Loans, Emergency Grants, and more.
Visit the SBA Coronavirus Resource page for a list of relief programs and guidance for small business owners during this time. We recommend reaching out to your current bankers, CPAs, attorneys, and other business advisors for more options.
Please refer to the CDC, WHO, local health departments, and local authorities for the most up-to-date guidelines and restrictions in place to promote health and safety.

Sharpening Your Marketing While We Wait
Astanza is Standing with You!
These may be uncertain times. We want you to know that, like we always do, Astanza is standing by our clients, students, staff, and fellow industry members every step of the way. If you have questions about these resources, topics discussed during the webinar, or the best options for your business, please contact us. We are happy to help you navigate this time and find sustainable solutions. Stay safe, and stay healthy!