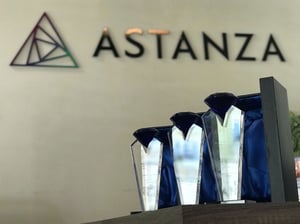 Last year Astanza was recognized as the 'Best Laser Company to Work For' at the 2020 Aesthetic Everything Awards. Out of the many accolades Astanza received, we are incredibly proud of this title. To be one of the best companies to work for, you have to be authentic, prioritize your people, have a strong company culture, and recognize clients and team members as the heart of your business.
From our humble beginnings to our tremendous and continual growth, we couldn't be more thrilled to be awarded the title of 'Best Laser Company to Work For.' Please keep reading to learn more about our purpose and culture, our core values, and what makes Astanza the best laser company to work for.
Astanza History
Over a decade ago, Astanza started as a leading innovator of tattoo removal technology. Since then, we've expanded our laser product line to offer some of the most advanced aesthetic technologies on the market. While it could have been easy to stick to the laser tattoo removal market, our employees challenged us to grow our product line and offer the most innovative and effective lasers to help our clients' needs.
Today, our state-of-the-art medical laser devices perform laser hair removal, skin resurfacing, laser tattoo removal, vascular lesion removal, pigmented lesion removal, and much more. Furthermore, Astanza lasers are trusted by renowned physicians and practitioners and seen in leading medical spas, tattoo shops, non-profits, and laser practices worldwide.
Our Culture and Core Values
At Astanza, our company culture is a reflection of our core values. These include practicing honesty in everything we do, having fun every day, treating our clients like family, providing excellent service and customer support, taking care of our team members, and challenging the status quo to ensure excellence. But at the root of Astanza is our purpose, which is to change lives.
Every day, the Astanza team is motivated to put in work to change our clients' lives by providing them with the support, technology, and resources to build and grow their businesses. Moreso, we know we're affecting the lives of millions of individuals and patients who get treated with our technology to boost their confidence and appearance through our clients. And finally, we change each other's lives by working in an environment that allows us to be ourselves, support one another, and express our thoughts openly.
How to be the Best Laser Company to Work For
How do you get the title of Best Laser Company to Work For? Easy. You create a fun work environment where team members can feel inspired. Having a purpose and company culture that puts relationships first and emphasizes the importance of changing lives over selling lasers also pushes us to prioritize making a difference before making profits.
Taking care of team members first and treating our clients like family is the perfect recipe for becoming the best laser company to work for. Our President, David Murrell, couldn't have said it better, "I'm especially proud of Astanza for winning the award for Best Laser Company to Work For. Our company's core values include unconventional actions that you don't typically see in corporate mission statements. We emphasize having fun every day and taking care of our team members to create a happy work environment, increase productivity, and supply exceptional support for our clients."
---
To help support Astanza and our passion for our clients and the aesthetic industry, we would greatly appreciate it if you took some time to vote for us in the 2021 Aesthetic Everything Awards. The deadline to vote is February 7, 2021 at 11:59 pm EST. Thank you in advance for your vote!
To learn more about Astanza or talk to a team member, call (800) 364-9010 or give us a follow on LinkedIn, Facebook, or Instagram.