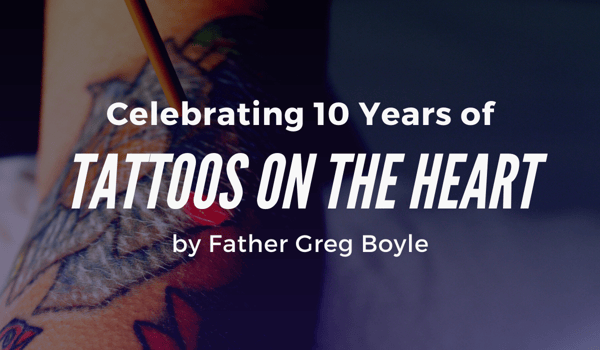 This spring marks the 10th Anniversary of Father Greg Boyle's first book, Tattoos on the Heart: The Power of Boundless Compassion. Father Greg Boyle is the founder and director of Homeboy Industries, the largest gang intervention, rehab and re-entry program in the world. Astanza has worked with Homeboy Industries for the past six years, providing tattoo removal lasers, service, training, and support. We're excited to partner with Homeboy well into the foreseeable future.
We wanted to offer Father Greg a few words of thanks and encouragement as he celebrates this momentous occasion. Tattoos on the Heart has impacted countless individuals, as well as the Astanza Team.
How Reading Tattoos on the Heart has Impacted Astanza
A few years ago, after returning from the Homeboy Network Gathering and having read, Tattoos on the Heart, the Astanza leadership team spent a significant amount of time together coming up with the vision and mission statement for the company. We knew that by merely focusing on profit and "just selling lasers," we would overlook the reason why we come to work every day and do what we do.
Changing Lives
As a company, we seek to change our employees' lives of our employees by offering challenging job opportunities in a supportive team environment.
We change our clients' lives by providing top-notch technology to support their entrepreneurial spirit, giving them all the tools they need to build or grow their business.
We change the lives of patients by allowing them to change their appearance. For some, it's increasing self-esteem based on how they look. For others, we are removing traumatic signs of the past, including tattoos from human trafficking and gang involvement. And for others, it's erasing the visible reminders of past mistakes. Read more here.
Sharing the message of Tattoos on the Heart with others
The year that we updated our company's purpose to focus on Changing Lives, we gave every team member a copy of Tattoos on the Heart to symbolize this new focus on caring for one another and our clients as family. In addition to gifting Tattoos on the Heart and Homeboy coffee mugs to team members, we also gave copies of Tattoos on the Heart to many clients as Christmas gifts.
The Homeboy Network Gathering will take place on August 9 - 11th in Los Angeles. If you're interested in starting a non-profit centered around laser tattoo removal or reducing recidivism, this is a wonderful opportunity to learn more. Join countless other life-changers at the Homeboy Network Gathering to see the incredible work that Father Greg and his team at Homeboy are doing and meet other non-profit community leaders and advocates. Learn more about non-profit laser tattoo removal during our free webinar, Deinked for a Cause.