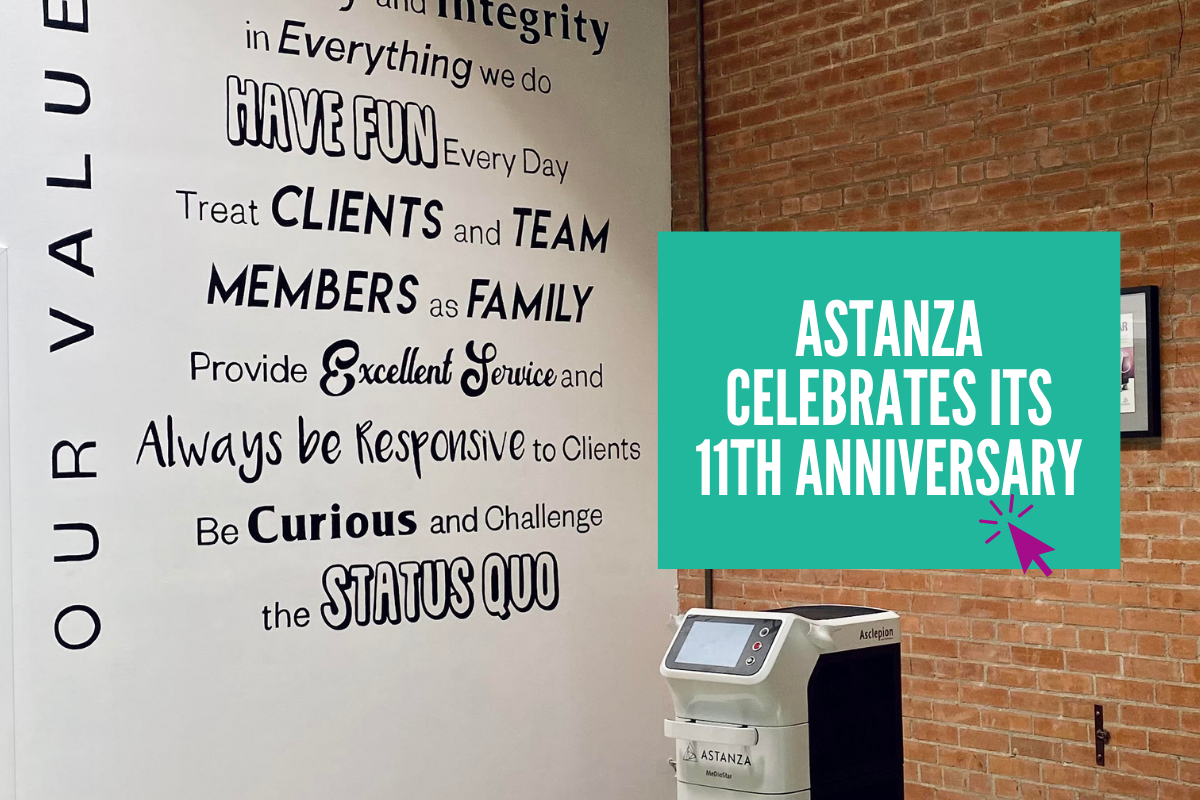 You're familiar with the coming of age: Awkward life lessons that have to be lived through, learning your true values and leaning into your core character traits. Take that notion and apply it to Astanza's existence so far as we enter our "pre-teen" years.
Today marks Astanza's 11th anniversary as a laser industry leader. As we look back and reflect over the past 10+ years, we can't help but be proud of the tremendous growth we've undergone, where we stand today, and the exciting plans we have in store for the future.
We have gained knowledge and experience through numerous challenges and attribute much of our success to our dedicated hardworking team and our clients' support and loyalty. Keep reading to learn more about our company's journey.
---
Much like growing up in real life, Astanza has evolved since its humble beginnings as a laser tattoo removal focused distributor into a reputable laser industry name. Ryan Lambert, a small laser tattoo removal business owner in Houston, founded New Look Laser College (NLLC) in 2007. NLLC was the world's first training program dedicated to laser tattoo removal and has since trained thousands of tattoo removal practitioners worldwide. Through NLLC – Astanza came to be.
As an entrepreneur himself, Lambert realized there weren't many laser tattoo removal manufacturers providing affordable and quality technical support, marketing, or training services. After partnering with a respectable manufacturer in 2009, Astanza Laser was officially founded in 2010 and sold its first laser.
Over the next several years, Astanza proved itself as the leading distributor of laser tattoo removal technology. Like growing pains in life, there were times early on when we stumbled and had to regain our footing, but we've since come into our own. Now, we can confidently say laser tattoo removal is our passion and we are considered experts in the industry.
Astanza gained a new owner and relocated its headquarters to Dallas, TX, in 2015. By this time, Astanza was an established laser tattoo removal brand and started a new partnership with Asclepion Laser Technologies to expand its product line into the aesthetic world of laser hair removal, skin resurfacing, vascular lesion removal, and more.
Fast forward to today, Astanza is still the leading provider of laser tattoo removal technology and is consistently growing its aesthetic global footprint thanks to our company's core values, commitment to exceptional customer service, and great partnerships.
New Look Laser College still dominates as the world's leading laser tattoo removal training program and has trained countless students who have gone on to start their own successful laser businesses. That's right – not only have we come into our own true identity, we've also successfully trained and assisted others in opening their own aesthetic laser businesses.
David Murrell, president and CEO of Astanza Laser, said he's proud of the strides Astanza has made thus far and is confident in what's to come. "We're a forward-thinking, closely knit group of people. If this last year taught us anything, it was to lean into what matters. Our core values truly reflect the mission of our company," Murrell said.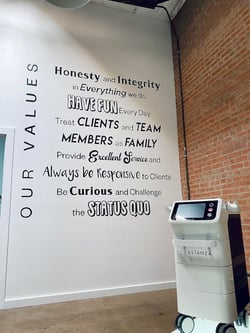 Just like redecorating your bedroom as a pre-teen, we've done a little redecorating ourselves. We're so serious about our core values we recently had them painted at the entrance of our office.
"Honesty and integrity in everything we do. Have fun every day. Treat clients and team members as family. Provide excellent service and always be responsive to clients. Be curious and challenge the status quo."
Company culture matters and great company culture translates to even better experiences for employees and clients alike.
If there's anything we've learned over the past 11 years, it's that relationships matter and clients inspire. Astanza wouldn't be where it is today without our team members' hard work, dedication, and the love we share for our clients. It couldn't be more fitting that Astanza was designated a Great Place to Work CertifiedTM company this year, a title that came solely from honest employee feedback. We're so proud of the workplace culture and core values Astanza has created and firmly believe that our beam team family is a tremendous driving force behind Astanza's success.
We are so very grateful to our clients who have put their trust in us. From entrepreneurs and small business owners to physicians and established medical spas, to non-profit organizations and corrections facilities, each client partnership we've cultivated over the years has challenged us to move forward and improve how we operate. We are so honored to change lives through our technology, support, and the communities in which our clients are rooted.
Thank you to everyone who has played a part in Astanza's coming of age journey. Here's to the next 11 years!