Sweater weather, pumpkin spice season, and fall decor are just a few reasons to celebrate Halloween, but one of our favorite features of this month is Halloween. Not only is this festive holiday great for dressing up in costumes, but it's also the perfect opportunity for aesthetic practices to offer promotions and get in on the ghastly fun.
Astanza client Ink Eraser in Wexford, Pennsylvania, is particularly excited about this October because it marks the first anniversary of the business. Astanza's Client Success Manager, Amy Yan, interviewed Ink Eraser owner Cassie Farkas for an exclusive inside look at the laser tattoo removal provider's new space. Keep reading to learn more about Ink Eraser's first year of business and special Halloween offerings.
---
Can you tell us about yourself and Ink Eraser?
"It's hard to believe it's been a year already! It's just me. I'm the owner and the laser technician. When clients call, they're talking to me. When clients come in to get treatments done, I'm the one performing the treatments. I have an off-site medical director as well, but I'm pretty much the only person in the office."
What is your practice's aesthetic, and what can customers expect when they visit?
"I have two rooms: a waiting room and a treatment room. My waiting room is fun and modern and un-doctor-like, you could say. My treatment room is very calming and chill. I try to make it as comfortable as possible for my clients."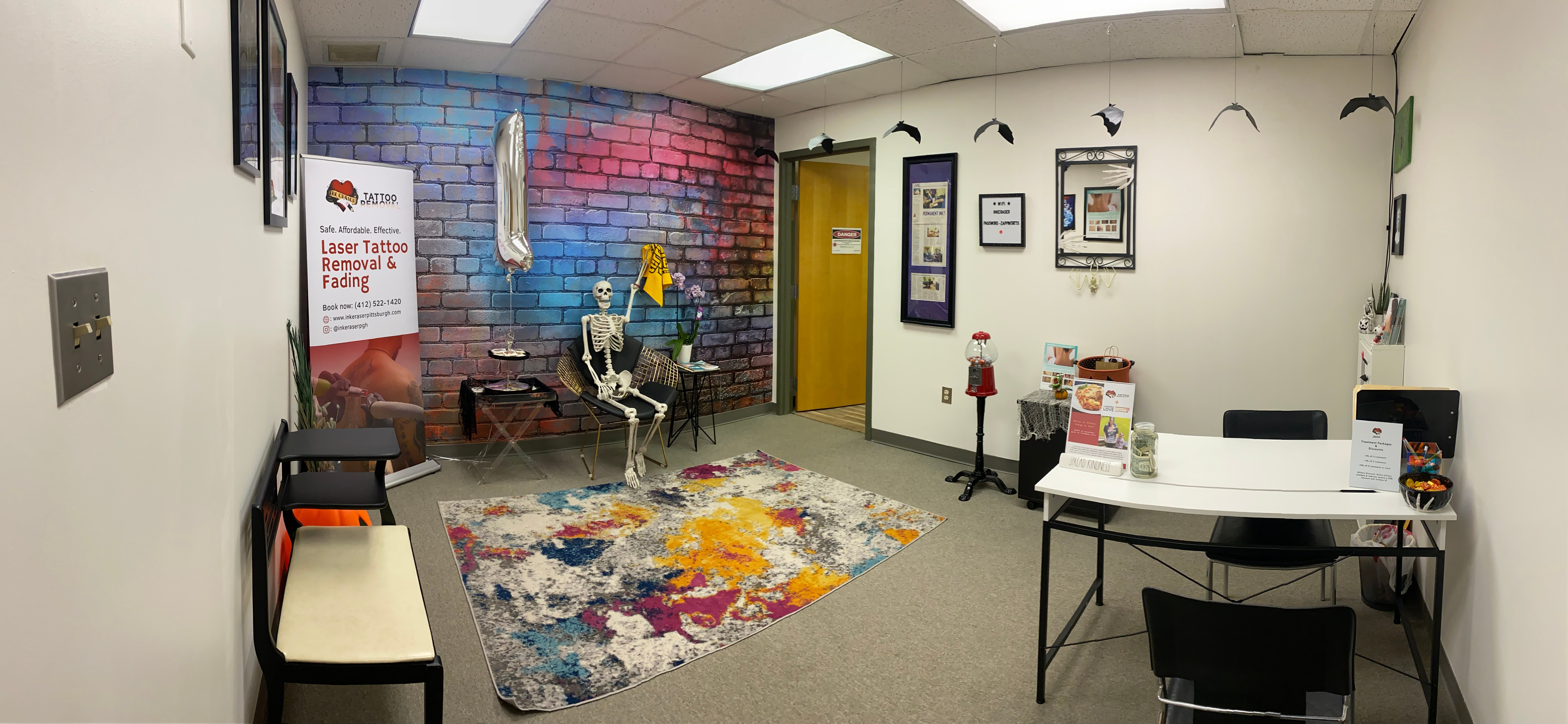 Cassie started Ink Eraser out of a single treatment room in another business's office space. Fast forward a year later, she has a space to herself to call Ink Eraser's home. The waiting room is quaint and modern, with a fun-colored accent wall, spacious check-in area, and framed newspaper feature of Ink Eraser's interview with the local Tribune-Review. The treatment room is spacious and clean and features an accent wall with forest wallpaper for a calming vibe. Clients and new visitors can enjoy the Halloween decorations set up for October, including ceiling bats, a friendly skeleton, and a little spider resting on the laser.
Why did you decide to offer laser tattoo removal, and what do you hope to achieve with this service?
"I really love tattoos. I appreciate them a lot and have been getting tattooed for a little over 20 years. I started getting tattoos when I was very young, and I have a bit of tattoo regret myself. So I started looking into laser tattoo removal for myself and felt really passionate and thought it would be something good for me to do, so here I am!"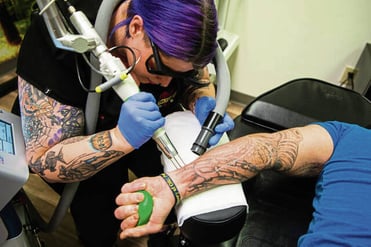 Cassie Farkas came from a background in cosmetology but ultimately switched careers to pursue her passion for tattoos and removal. Another wall in her treatment room says, "Trust the Process." This is a phrase that Cassie reminded herself of throughout her journey of laser removal, laser training, and starting her own business.
How was your experience getting trained at New Look Laser College?
"It was the best experience. I learned so much. The trainers and the whole team were so helpful, smart, and knowledgeable. There's so much involved in tattoo removal that you wouldn't even think about, but when I got through with my training about two years ago, I was confident. I loved the customer service that Astanza had – I decided to purchase an Astanza Duality actually."
New Look Laser College is Astanza's training division. The two-day course includes hands-on training, an in-depth educational curriculum, and helpful marketing and business operations insights. Numerous classes are held year-round at Astanza's Dallas headquarters and off-site locations such as Las Vegas, Fort Lauderdale, and more. In addition, Astanza clients can receive complimentary training for themselves and their staff at no cost at any Dallas New Look Laser College course thanks to the Astanza Experience and Lifetime Training and Clinical Support.
Want to learn more about Cassie's training experience? Watch her interview about New Look Laser College here.
Why did you choose Astanza technology, and what have you enjoyed most/what are you most looking forward to about this partnership?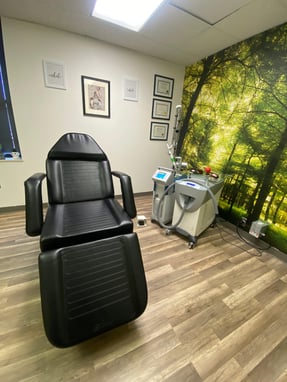 "I had a sales rep that I was talking to for a long time, and one thing that really sold me on going with the Duality is that he was not sales-y with me. He was just concerned about me making the right decision, even if it wasn't with Astanza. He was so helpful and supportive and really patient with me because it was a big decision to buy a laser. It was just the best experience from my training to my sales rep, and even now, being open for a year. The support that Astanza gives is just amazing. A lot of companies will say they give customer service, but the proof is in giving good customer service. If I ever need anything, you guys are always just a phone call or text away, and that's a really good feeling."
Astanza's core values include honesty and integrity in everything we do, treating clients and team members as family, providing excellent service, and always being responsive to clients. We value our clients and treat them as family, ensuring their best interests are at heart. Astanza believes we're not in the business of selling lasers; we're in the business of changing lives.
What is a #changinglives moment you've had thanks to this business?
"There are so many, but I would have to say the most #changinglives moments have been helping people with a tattoo associated with a memory that's not a happy one. Whether it's a tattoo of an ex, maybe a ring finger tattoo of an ex. I do a lot of those, and it's great to help people remove those and move on to the next chapter of their lives. Also, I do a lot of removal for people trying to get into the military. It's really cool to be able to do that and get through the process with them and know that they're going to be moving on to their next chapter in life and that I got to help them. I have #changinglives moments every day, but those are the top two."
Astanza is proud to have clients like Cassie and Ink Eraser, who share the same mission of changing lives as we do. To celebrate its first anniversary and Halloween, Ink Eraser is offering new clients 31% off their first treatment when they book an appointment by October 31st. They're also holding a Scary Tattoo Contest to reward the scariest, most regretful, or poorly done tattoo will win a grand prize treatment package worth $1,000. All other entries will receive 50% off their first treatment. See the full contest details on Ink Eraser's Instagram.
To learn more about Ink Eraser or book an appointment, call (412) 522-1420, visit https://inkeraserpittsburgh.com/, or follow @inkeraserpgh on Instagram. Ink Eraser is located at 11676 Perry Highway, Suite 2106, Wexford, PA 15090.
---
Want to learn more about starting your own laser business? Astanza representatives are happy to provide more information about our product line. Contact us today to get connected!