As Astanza continues to grow, we are so honored to announce a new recognition from Great Place to Work and Fortune. We are now one of the Best Workplaces in Health Care™ 2022, coming in 49th place! This is our second time being named on one of Great Places to Work's prestigious lists, showing that Astanza is one of the best companies to work for, headquartered in Dallas, Texas.
"2022 has been a year of milestones for Astanza. Not only were we designated as a Great Place to Work® company for the second time in a row, but we were also named one of the Best Workplaces in Texas™, and can now add Best Workplaces in Health Care to the list," said David Murrell, President of Astanza. "As always, none of these recognitions would have been possible without the amazing team members that make Astanza such a fun place to work. I am honored to make this list and so thankful for the incredible work my team members put in daily to help our clients and the healthcare industry succeed."
---
Great Place to Work Rankings
Becoming part of The Best Workplaces in Health Care list is a difficult task due to its competitive environment. Great Place to Work, the global authority on workplace culture, selects companies by using confidential employee feedback and precise analytics. To be considered for this list, an organization has to be a Certified Great Place to Work.
To be awarded as a Great Place to Work-Certified company, each organization is assessed on their employees' experiences. This includes evaluating the experience of all employees no matter their race, gender, age, disability status, and any aspect of who the employee is or what their role is. Great Place to Work is the only company culture award in America that selects winners based on how fairly employees are treated.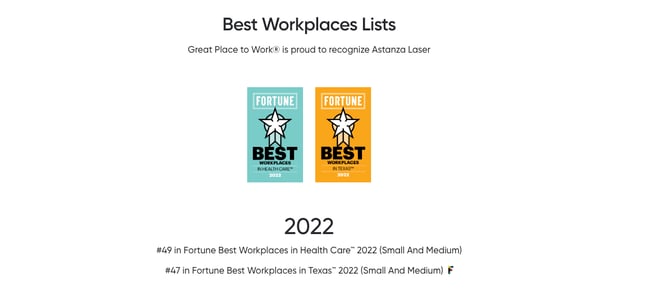 Joining Astanza's One-Of-A-Kind Culture
Keeping a healthy and fun work environment filled with opportunities for anyone is a team effort. It takes finding the right people that love what they do to come join our #AstanzaFamily. One of the largest parts of our company culture are the values that we strive for each day, including:
Honesty and integrity in everything we do
Having fun every day
Treating clients and team members as family
Providing excellent service
Always being responsive to clients
Being curious and challenging the status quo
Our goal when expanding our job positions is for everyone to feel welcome and enjoy the work they do here. Some ways to keep the work-hard-play-hard aspect of our company is by implementing strategies that constantly challenge us and reap great rewards. Examples include our BetterBookClub, Fun Fridays, Personal Development Plans, and traveling to celebrate our yearly goals.
We're Hiring!
Are you ready to become part of the A-team, challenging yourself and growing in an environment that allows you to? We're looking for people that have a strong work ethic and a passion for #changinglives.
Below are Our Openings:
The Astanza Director of Talent Acquisition and Culture will work with Astanza Leadership to find the best talent for our growing team, helps onboard the new team member, and assist in the entire team's career and personal development.

We are looking to add another exceptional candidate to our well-regarded Engineering Department. Service engineers are responsible for the installation of lasers on-site, and training customer employees on-site in safety and treatment protocols. We offer excellent all-in-one service support for any questions involving treatment methodology or laser performance concerns. As part of the engineering team at Astanza, you would provide routine and emergency maintenance for Astanza Laser clients. Engineers should be able to provide support and troubleshooting or clinical support over the phone, in person, or on a video call.

The Inside Sales and Account Manager will be responsible for working with new leads, established accounts, and everything in between. Any individual considering joining the A-Team must be passionate about their work, customer service oriented, and proud to contribute to the team's success.