This month, Astanza Laser celebrates its tenth year of #changinglives through innovative service, training, marketing support, and laser technology within the greater aesthetics industry! After serving tattoo shop owners, medical spas, plastic surgeons, and first-time entrepreneurs for 10 years, we're reflecting on our journey from a humble startup into a force for change and innovation as an aesthetics industry leader.
Over the past decade, Astanza has expanded our product line from solely offering laser tattoo removal technology to now providing solutions for laser hair removal, skin resurfacing, vascular lesions, and various other procedures. Since our founding in 2010, Astanza has become one of the most well-known and approachable brands in the aesthetic laser industry that consistently puts clients first.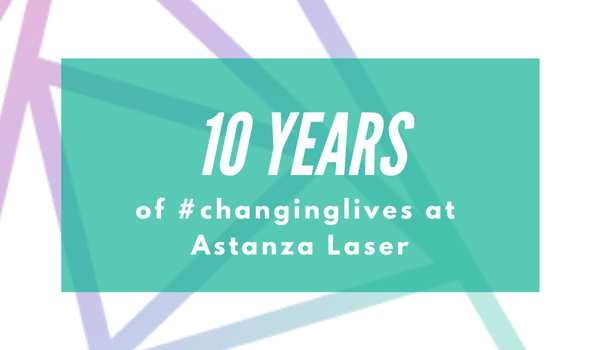 "I am immensely proud of the steps Astanza has taken to get to where we are today," said David Murrell, President of Astanza.
"When I took the reins in 2015, Astanza was the number one name in tattoo removal. We have been able to build off the strong foundation and limitless potential to develop Astanza into one of the most respected and trusted names in the aesthetic laser industry. Our world-class team, reputable product line, and unparalleled customer service are big drivers of our continued success. I believe this 10-year milestone is validation that our employees, clients, and their customers believe in our technology and Astanza's work ethic and company values. We look forward to many more years of growing alongside our clients."
The Astanza Family is thrilled to celebrate this milestone alongside our clients, partners, and colleagues! We look forward to the next five years - and many more - as we continue to grow as an industry leader and make an impact in our communities. We are immensely grateful for our position to be able to help our clients grow their business ventures, achieve their goals, and help others.
One way Astanza helps our clients grow is by offering the Astanza Experience. The Astanza Experience is comprised of three main pillars: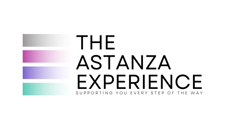 The Business Builder System
3-Business Day Service Guarantee
Lifetime Training and Clinical Support
The Business Builder System is a lead generation campaign in which Astanza will generate 60 leads in the first 60 days of each of our clients' laser businesses to help them have a strong start to building their clientele.
As an Astanza client, you will be covered by the 3-Business Day Service Guarantee for as long as you own your Astanza laser. This guarantee is Astanza's promise to resolve any laser issues and have the laser in working condition within three business days after a client calls, emails or leaves a voicemail at the designated number and email address stating the issue or initiating a service request. If you are on a VIP plan and we can't or don't have your laser in working condition within three full business days of you contacting us, we will extend your VIP plan by one month per day that the laser is not fixed, with a maximum of six months.
If you're not on a VIP plan and are receiving repairs via an a la carte visit, and we can't or don't have your laser in working condition within three business days of receipt of full payment (unless the client chooses a later date for service), you will receive a 20% discount on any parts needed.
Every member of the Astanza Family will have access to free training and clinical support for as long as they own an Astanza Laser. Free lifetime training and clinical support includes access to a clinical resource library, video consultations with Astanza biomedical engineers, and access to complimentary training at New Look Laser College (Dallas location only) and also pre-scheduled training at Astanza's headquarters.
These three pillars that make up the Astanza Experience were expertly created to support our clients every step of the way. To learn more about the Astanza Experience, visit our web page detailing the offerings here.
Together, we will continue #changinglives.