Astanza Laser has been recognized as a Great Place to Work-Certified™ Company for the third consecutive year, and we couldn't be more honored! This prestigious certification is awarded by the Great Place to Work® Institute, a global organization that evaluates workplace cultures and recognizes companies that prioritize employee satisfaction and well-being.

Great Place to Work® has surveyed more than 100 million employees worldwide since 1992 to determine what truly makes a company a great place to work. The Certification™ is determined through an anonymous report based solely on employee feedback about their overall workplace experience through the confidential Trust Index© survey.
---


What Makes Astanza Laser a Great Place to Work Company™
Astanza Laser underwent a thorough evaluation process to become certified, including a fully-anonymous comprehensive survey of employees' experiences and opinions. This survey covered a wide range of topics, such as the company's leadership, work environment, benefits, and overall culture. The survey results demonstrate that Astanza Laser has created a positive, fulfilling, and exciting work environment that fosters growth, collaboration, and innovation.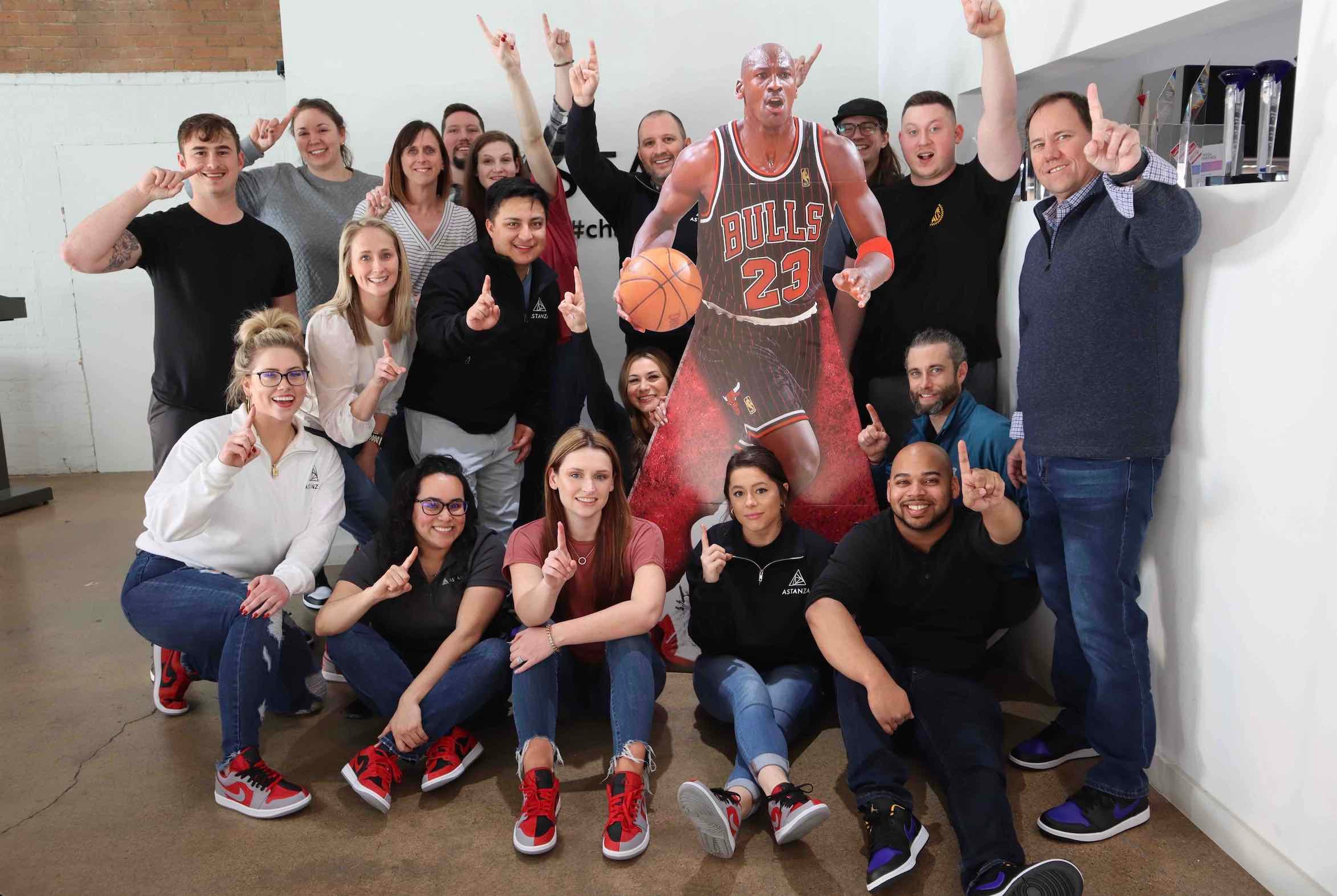 Being recognized as a Great Place to Work-Certified™ Company for three years in a row is especially meaningful because it exhibits the company's commitment to fostering a supportive and rewarding workplace for our employees.

"Every day is rewarding because I'm surrounded by hardworking and uplifting people," said David Murrell, president of Astanza Laser. "You can feel the morale when you enter a space, and I'm proud of our team and truly honored to work with such incredible people."

Great Place to Work® reports companies that meet the Certified™ standard are more successful at recruiting, retaining, and engaging employees than at the average workplace:
– 93% more employees say they look forward to work
– 51% more employees say they intend to stay for a long time
– 60% more employees say they would strongly recommend their company to friends and family
– 66% more employees say they can quickly adapt to changes in the business

This certification not only serves as a testament to our company's core values and practices but also contributes to hiring top talent and establishes Astanza Laser as a well-respected leader in the industry. "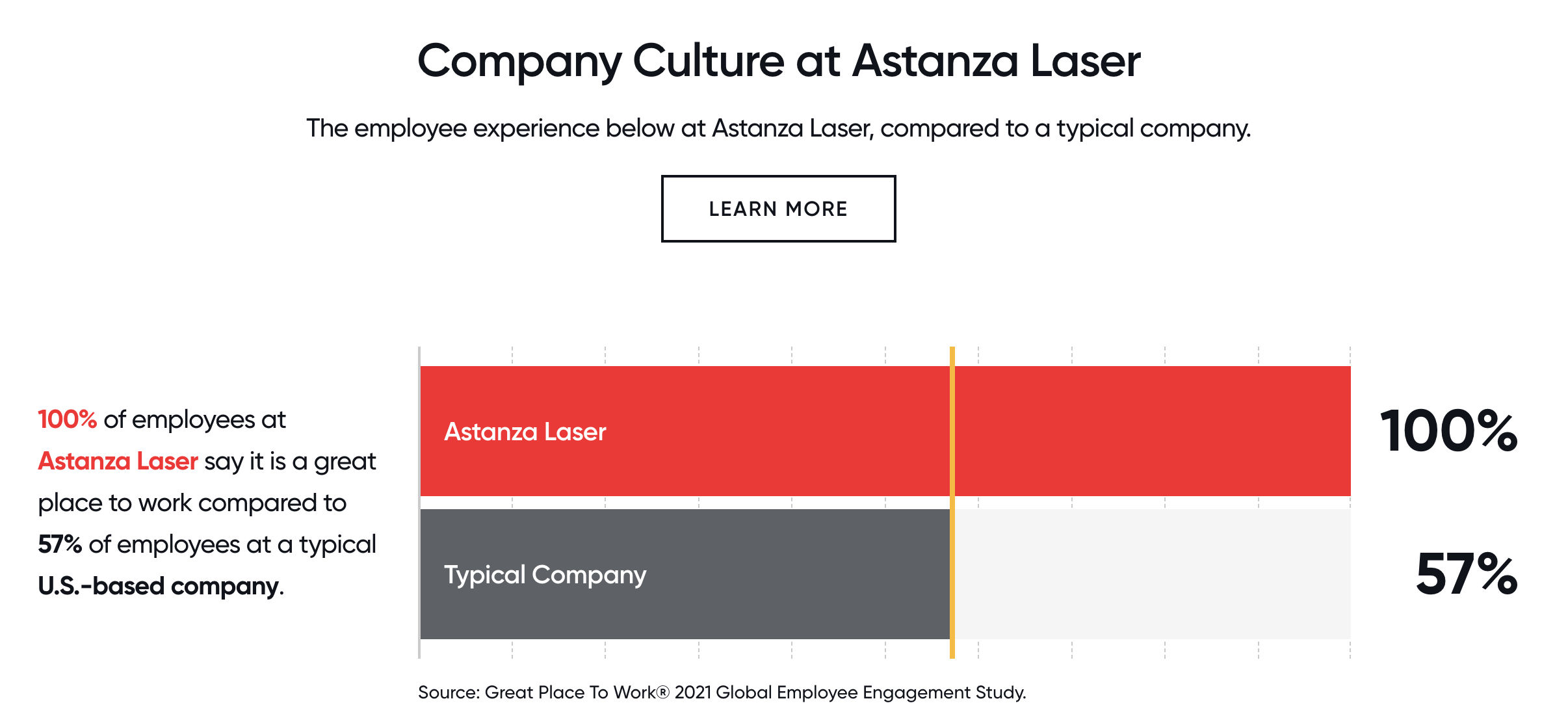 While only about 57% of employees at a typical U.S.-based company say their place of employment is a great place to work, 100% of Astanza's employees think Astanza is a great place to work!



What Sets Astanza Laser Apart from the Rest
Our company's mission of #ChangingLives through advanced laser tattoo removal technology goes beyond our clients and the work they do in their local communities. We understand our employees are critical to achieving this mission and continually prioritize investing in their well-being and professional and personal development. Astanza Laser provides its employees with standard modern day benefits, including comprehensive healthcare coverage, flexible work arrangements, and opportunities for career advancement. Some unique perks of being part of the A-Team at Astanza include monthly Fun Fridays, our Better Book Club, where employees get monetary rewards for reading, and regular team gatherings and events to celebrate each other and our accomplishments.





As a Great Place to Work Certified™ company, our commitment to our employees has not only improved the lives of our staff but has also contributed to Astanza's success and growth.



Another factor that sets Astanza apart from other companies is our employee tenure. Astanza has grown quickly and added several new members to the A-Team in the last year. Looking at our employee demographics: 25% of Astanza employees have been at the company between six and 10 years and 30% of employees between two and five years. People stay where they are appreciated, respected, and celebrated, and having such a high percentage of team members here for years speaks volumes about how we care for our employees.



We're Hiring! Join the A-Team at Astanza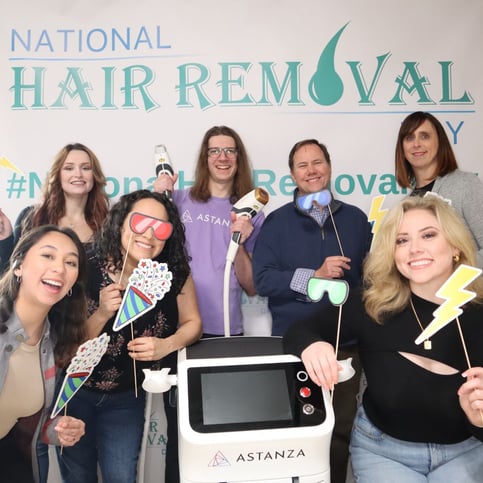 Looking for your next career move and want to join the A-Team? We're hiring! Visit our careers page to view our current open positions.

"What makes Astanza a great place to work for me is the entire team's commitment to #ChangingLives. Each person truly is a helper who really wants every member of our family – client and teammate – to be their very best. We believe in the good of people and offering second chances to change your world. It's people who truly believe in good," said Chrissy Holmberg, Astanza's accountant.
---


If you are interested in learning more about Astanza, our FDA-cleared, medical-grade aesthetic laser product line, or have any other questions, contact us today! Join the Astanza Family and become part of the Astanza Experience.