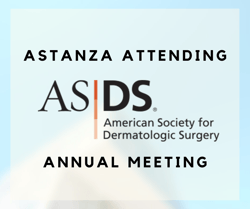 Astanza is excited to join Vydence Medical at the annual American Society for Dermatologic Surgery (ASDS) meeting in Chicago, October 24-27! We'll be sharing how the Etherea MX platform laser is transforming the aesthetic industry for physicians, medical spas, and surgeons.

Find the Vydence+Astanza Team at booth #604 at the Hyatt Regency Chicago Riverside Exhibit Hall.

About ASDS
The American Society for Dermatologic Surgery (ASDS) annual meeting is a comprehensive educational experience spanning the field of dermatologic surgery, including cosmetic, Mohs, skin cancer, reconstructive, and general dermatologic surgery procedures, as well as practice management.

ASDS is the largest specialty organization in the United States exclusively representing dermatologic surgeons who have unique training and experience to treat the health, function and beauty of skin throughout every stage of life. ASDS members are recognized as leaders in the field of cosmetic and medically necessary skin surgery. They also are pioneers in the field: many are involved in the clinical studies that bring popular treatments to revitalize skin and fill and diminish wrinkles to the forefront.

About the EthereaMX
Revolutionizing the aesthetic industry for both patients and practitioners, the Etherea MX is a versatile platform device equipped with seven unique handpieces capable of performing more than 70 FDA-cleared aesthetic laser treatments. Some of these high-demand procedures include laser tattoo removal, laser hair removal, skin resurfacing, IPL treatments, vascular lesion removal, wrinkle reduction, skin tightening, and more.



Each handpiece is engineered with advanced optical precision, adjustable spot sizes, and added safety measures for patients with darker skin tones to deliver enhanced results. The Etherea MX is developed by Vydence Medical, Brazil's leading laser manufacturer.

Who is Vydence Medical?
Astanza is partnering with Vydence Medical for the annual ASDS meeting to introduce US physicians and medical spa owners to the Etherea MX's unparalleled technology and versatility. Vydence Medical has been revolutionizing the aesthetic laser market with their cutting-edge technology.

"We are excited to partner with Vydence Medical to introduce the EthereaMX to the United States. Vydence is the premier medical device manufacturer in Brazil, the world's second-largest market for aesthetic procedures, and is a worldwide leader in laser research and development," said David Murrell, Astanza Laser President.

Join Us at ASDS!
To learn more about the Etherea MX, Astanza, and Vydence, join us at the annual ASDS meeting in Chicago, IL October 24-27, 2019. Find the Vydence+Astanza team at booth #604. Click here to learn more about the ASDS annual meeting and how to register to attend.

American Society for Dermatologic Surgery Annual Meeting
October 24 - 27, 2019

Hyatt Regency Chicago
151 East Wacker Drive
Chicago, IL 60601
Exhibit Hall: Riverside Exhibit Hall
Click here to learn more.

Learn More About the Etherea MX