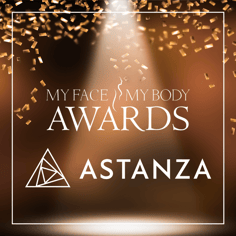 This year, Astanza has been nominated for three MyFaceMyBody Awards. We are so excited for the opportunity to be recognized for what we do best: marketing, training support, and customer service.
MyFaceMyBody is the expert on the latest cosmetic surgery and beauty treatments. They are one of the largest independent resources for aesthetic consumers internationally and deliver exciting and insightful aesthetic industry news through various outlets, including a television series. They have provided the aesthetic industry with a credible awards process for the past eight years and have recognized numerous individuals, aesthetic practices, and brands throughout the world.
Astanza's core pillars are centered around service, training, marketing support, and technology, so we feel very honored to be nominated for awards that embody all that we stand for:
Each of these awards highlights a different aspect of what we do best, serving our clients! While we're thrilled to be nominated, we would be overjoyed to win any of these awards. We would greatly appreciate your vote to help us take home the title for these three categories. All you have to do is
click this link
and fill out the 1-2 minute voting form.
Your support for Astanza has been phenomenal and we wouldn't even be nominated for such awards if it weren't for our clients.
Voting for the MyFaceMyBody Awards officially ends November 4, 2019. Thank you in advance for voting!