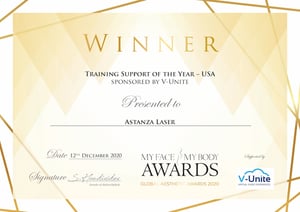 Whether you're an Astanza client or someone interested in learning laser tattoo removal to start an aesthetic business, Astanza and our training division, New Look Laser College (NLLC), offer the industry's best training support. We've provided award-winning training for more than a decade and were recognized once more for Training Support of the Year at the 2020 MyFaceMyBody Awards.
The MyFaceMyBody Awards is a global awards program that recognizes aesthetic practices, individuals, brands, and manufacturers in the aesthetic industry for various notable categories. We are honored to receive Training Support of the Year for a second time and believe this accolade is proof of our commitment to serving our amazing clients and growing the laser tattoo removal industry through hard-working NLLC students. Please keep reading to learn more about our award-winning training programs.
Astanza Client Training
One of the most critical aspects of the training support that Astanza provides is meeting clients where they are. We understand that each client has differing needs, and while some clients prefer on-site training, others want to come to our headquarters for more in-depth training. To attend to each client's needs, we offer clients the training location of their choice, in their field or at our Dallas headquarters. Our expert trainers are knowledgeable Biomedical Engineers who provide award-winning laser training the same day they install the laser, allowing business owners and staff members to ask any necessary questions while an expert is on-site.
Our Biomedical Engineers have received high praise and testimonials from every client and still ask questions for improvement to deliver the best training support continually. Here's what one client had to say about their on-site training experience:
"First and foremost, we would like to extend a huge heartfelt thank you to the entire Astanza team. None of this would be possible without the relentless, selfless, and timeless efforts of each and every one of Astana's staff," said Brieanna Calandrella, owner of Panacea Tattoo Removal.
"From the early stages of planning and choosing the right equipment with Opal, to the spot-on knowledgeable setup and training with Richard, to the exceptional guidance and advice provided by Amy in the marketing department. We truly believe that with all of these great services combined, Astanza has provided us with not only an immensely worthy asset for the growth and evolution of our business, but most importantly, the Astanza team has provided us with a long-lasting, trusting, and sustainable partnership that will last a lifetime."
VIP Plans
Astanza's VIP program is an upgraded version of your standard warranty plan. Our VIP Program has numerous benefits built to provide much more than the basic services that laser manufacturers and distributors should provide. We wanted to create a program that supported our clients in every facet of their business, from laser service, training support, marketing support, and more.
In terms of training support, Astanza VIP members receive training credits to use when new members join their practice to help their onboarding process. These credits also include ongoing education and access to our virtual training support via Skype, Facetime, Zoom, and Google Hangouts. Furthermore, clients have access to clinical consultations with our clinical director and expert team.
New Look Laser College
Astanza's unparalleled focus on training is evident in our clients' and students' success. Our training division, New Look Laser College, provides in-depth academic and hands-on training and support for individuals interested in becoming laser tattoo removal specialists. We host multiple courses throughout the year, seven at our Astanza Dallas headquarters and other destinations, including Las Vegas, New York, Miami, and Orlando. Despite the high demand for Astanza training programs, course sizes are kept small to ensure each attendee gets the one-on-one attention and hands-on experience they need.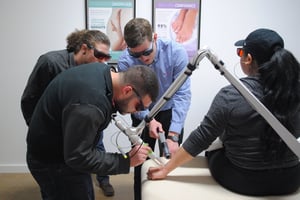 Each 2-day course covers numerous topics, including laser safety, laser protocols, addressing patient concerns, proper aftercare application, best marketing and business operation practices, extensive hands-on training on a diverse pool of patients and tattoos, and much more.
"We're honored to win Training Support of the Year. Our clinical education team prides itself on delivering the most up-to-date treatment methods and recommendations to get the best results with the best laser technology. Even after the initial training, our staff stays available to answer those clinical questions, and it's great to see our hard work pay off," said Justin Arnosky, Astanza VP of Clinical Education.
"We're also excited to have New Look Laser College recognized as the Best Tattoo Removal Training Program. Our two-day training provides an unparalleled level of detail, information, and hands-on experience for both new and experienced practitioners. We preach the value of measured use and experience with the laser in a clinical setting. Stacking our marketing and business section on top of that seems to resonate with our students. We're looking forward to an already busy 2021 training calendar!"
---
Are you interested in getting certified in laser tattoo removal? Click here to view the full 2021 New Look Laser College course schedule.
We want to thank MyFaceMyBody and all the voters again for awarding us the 2020 Training Support of the Year award. Astanza is continuously evaluating, improving, and working hard to serve our clients and their communities. Our roots in laser tattoo removal and love for the aesthetics industry have propelled New Look Laser College to be the world's leading tattoo removal training program to date.
Want to learn more about New Look Laser College? Be sure to check out our pre-recorded webinar, Answering FAQs on Laser Tattoo Removal Training. Our instructors cover what to expect at NLLC, how to register, what prerequisites you need, and more.