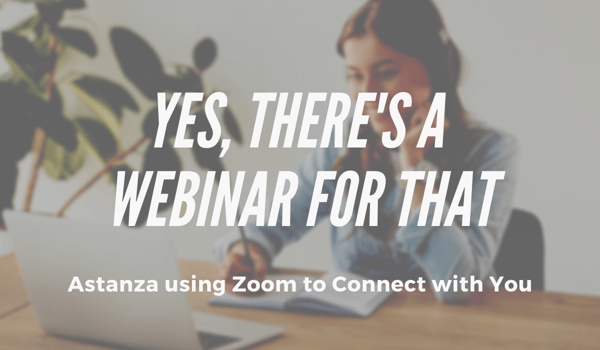 A few years ago, Astanza began using Zoom to host live educational webinars. After receiving such positive feedback from attendees, we expanded our content library to include quarterly webinars exclusively for clients, providing updates and information to help aesthetic business owners operate more effectively.
This focus on innovative e-learning tools and webinars was one of the reasons that Astanza won the 2019 MyFaceMyBody Training and Service Company of the Year Award. We embrace using technology regularly, and we continuously look for innovative tools to best reach our clients, including Zoom, FaceTime, Skype. Astanza strives to meet clients where they're at, and use the means of communication they're most comfortable with to answer questions, provide clinical feedback, and even help conduct diagnostic tests on their lasers from afar.
We've been hosting Zoom webinars for a few years now, but little did we know 2020 would be "The Year of the Webinar" due to recent work-from-home transitions amid COVID-19. Just so, we're happy to embrace this means of communication.
Recently, Astanza's award-winning Marketing Team hosted a live webinar that focused on ways those in the aesthetic industry can effectively and efficiently market their aesthetic practices.
During 10 Marketing Tips for Your Aesthetic Practice, we covered several topics, including:
Annual Marketing Planning
SWOT Analysis
Social Media (foundational and new platforms)
Increasing brand loyalty
How to conduct an effective event
Embracing and optimizing video content
This educational webinar, and all Astanza webinars, is free to view. The recording is now available to watch at your convenience. Click here to access the pre-recorded webinar and learn innovative marketing tips to move your business forward.
Viewers will also receive a complimentary ebook covering similar topics discussed during the webinar. To solely download the Marketing Tips ebook, click here.
If you have additional questions about anything you heard during the webinar or have further questions on how to market your aesthetic practice, please contact us by emailing marketing@astanzalaser.com. If you're interested in learning more about an industry topic, let us know! We welcome your feedback and suggestions as we strive to be your go-to resource for high-quality service, training, marketing support, and technology information. Contact us here.
Happy Zooming!