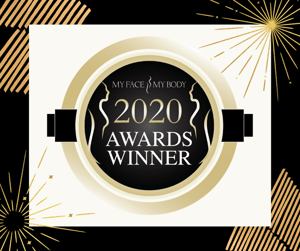 While 2020 was rough, to say the least, Astanza ended the year on a great note by winning three MyFaceMyBody Awards for Manufacturer or Supplier of the Year, Customer Service Support of the Year, and Training Support of the Year.
The MyFaceMyBody Awards is the largest aesthetic awards program centered on the aesthetics and beauty industries. The annual global awards program celebrates numerous individuals, practices, and brands in the aesthetic industry for various accolades. Astanza is proud to be recognized as a first-time winner of the Manufacturer of Supplier of the Year award, in addition to winning the Customer Service Support of the Year award and Training Support of the Year award for the second time.
While all of these awards hold a special significance to Astanza, we are especially delighted to secure the Customer Service Support of the Year title. At Astanza, our purpose is to change lives, and many of our core values stress the importance of providing exceptional service through customer relations and technical support. As individuals and a team, everything we do focuses on treating our clients like family and doing everything in our power to make sure their needs are met.
Astanza provides the highest customer service support across each of our pillars: Service, Training, Marketing Support, and Technology. Regarding technical support, no other laser distributor provides a fast and reliable service as Astanza does. Here are a few features that make our customer and technical support award-worthy:
Virtual Support and Demos
In response to the COVID-19 pandemic, Astanza implemented LIVE, virtual laser demonstrations, and technical support calls via Zoom, FaceTime, Skype, and Google Hangouts. We wanted to create an alternative communication method for prospects and clients to connect with our team and Biomedical Engineers. Virtual calls allowed opportunities to speak face-to-face with a knowledgeable sales representative and clients to ask questions and get feedback about their laser device.
Professional Biomedical Engineers
Unlike other laser companies, Astanza hires the best of the best to ensure our clients receive expert, reliable support for their laser devices. Not many manufacturers have a service team readily available to help their customers. Many laser companies even outsource their service through third party technician companies or contract workers. Astanza's technical service team consists of Biomedical Engineers who understand our laser products inside and out and even know similar lasers from other companies. We provide round-the-clock support and communication to our clients 24 hours a day via phone, email, text, video chat, and travel.
VIP Plans
Astanza's VIP Program encapsulates the many facets of how our outstanding client service goes well beyond the technical servicing of our clients' lasers. Our VIP Program is essentially a laser warranty plan but with the benefits of additional service support, technology support, marketing support, and more. Unlike other laser companies that charge an arm and a leg for warranty plans, we've included additional services across our four pillars at the same price point as a basic warranty plan to support our clients even more. Clients receive things like clinical support, emergency visits, travel cost, parts, Google AdWords management, graphic design projects, training credits, and more.
---
At Astanza, we define success through the satisfaction of our clients. That being said, we're thrilled to have our efforts recognized through awards programs like MyFaceMyBody and want to say thank you again to everyone who voted for us. We will continue to provide excellence across our four pillars and look forward to all that 2021 has in store. Learn more about the Astanza Experience – the most comprehensive warranty and support system in the aesthetic industry, including a 3-Business Day Service Guarantee, Lifetime Training and Clinical Support, and Astanza's unique Business Builder System, providing 60 leads in 60 days to all new Astanza clients.
To learn how to become a standout, award-winning aesthetic company like Astanza, be sure to register for our upcoming webinar with Mark Fenner, Scaling Up Coach and Strategist. The webinar, "5 Keys to Success for Your Aesthetic Practice in 2021" will air live on Thursday, January 14, 2021 at 1:00 PM CST. Registrants will receive a recording after the livestream via email. Click here or the image below to register for this free webinar!