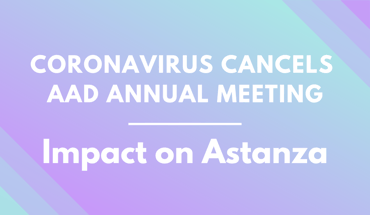 On Tuesday, March 10, the American Academy of Dermatology (AAD) announced that they have canceled their 2020 Annual Meeting scheduled for March 19 - 22 in Denver, Colorado as a precautionary measure related to COVID-19 (coronavirus disease).

Astanza had planned to participate as a guest in the Asclepion booth, where we were going to showcase the Asclepion DermaBlate, the new Asclepion MeDioStar*, and the Asclepion PicoStar*. While we are disappointed by this cancellation, we view it as an appropriate time to provide some information to our customers and prospective customers about the impact of COVID-19 on Astanza's operations.

We have been receiving several questions about delivery / installation schedules, parts availability, and training. As such, we've put together a brief review of Astanza's areas of operation and how COVID-19 may impact each.