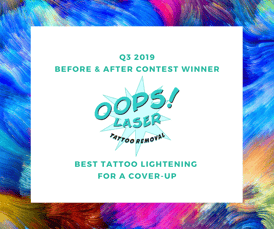 We're excited to announce Oops! Laser Tattoo Removal as the winner of the Cover-Up/Lightening category of Astanza's Q3 Before & After Photo Contest!

Astanza holds this exclusive quarterly contest for our clients to submit their best photos showcasing results from the laser tattoo removal services they provide. Clients can enter their photos for a chance to win one of two categories: "Best Cover-Up/Lightening Photo" or "Best Complete Removal Photo."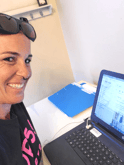 Oops! Laser Tattoo Removal is one of the leading tattoo removal specialty shops in Tucson, AZ. They've been serving their community with the Astanza Trinity triple-wavelength laser system for several years and continue to make an impact by delivering consistent results for each patient. Thanks to their full-spectrum laser, Oops! Laser Tattoo Removal can effectively treat any tattoo removal patient that comes through their door, regardless of ink color, size, location, or age.

Tattoo lightening patients seek to fade their existing unwanted ink just enough so that they can more easily cover up the area with a new tattoo. By fading existing ink before applying a cover-up tattoo, patients and tattoo artists avoid compromising the quality of the next piece of artwork and can use less ink in the process. View Oops! Laser's winning cover-up/lightening photo below: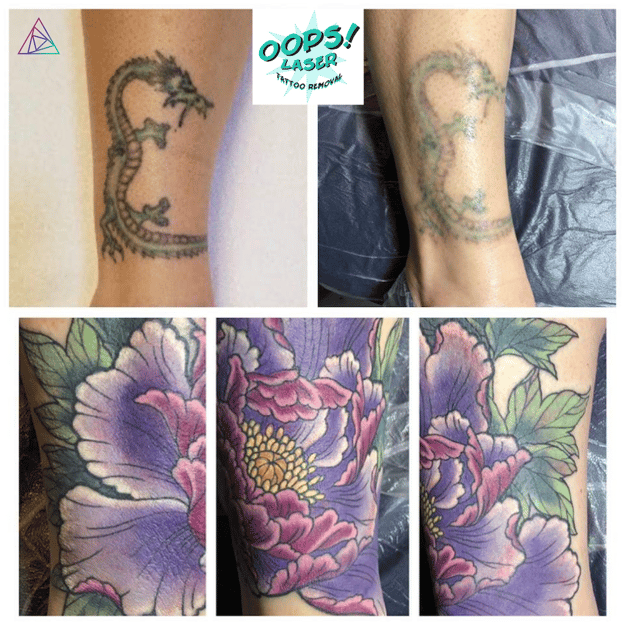 We'd also like to thank all the Astanza clients who participated in Q3's Before & After Photo Contest! Below is an entry from 1 Point Tattoo Removal, another incredible example of how laser tattoo removal can be a tattoo artist's secret weapon for creating beautiful artwork on any client. Learn more about 1 Point Tattoo Removal here.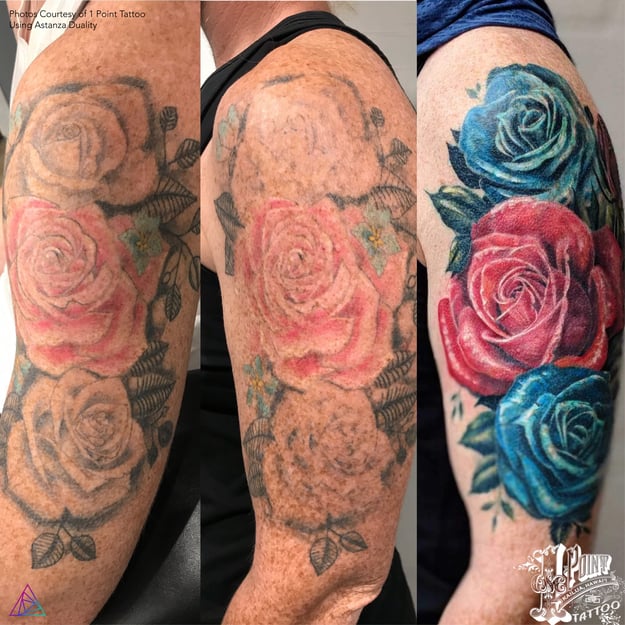 Astanza's Q3 Before and After Contest just wrapped up, but clients still have time to enter Q4's round before the end of 2019 for a chance to win some awesome prizes! Clients can submit their best before and after photos on the official Client Photo Contest Page through December 31, 2019, to be entered to win. Please read all the terms and conditions before entering.

Improving Before and After Photos with RxPhoto:
Patient Photography Software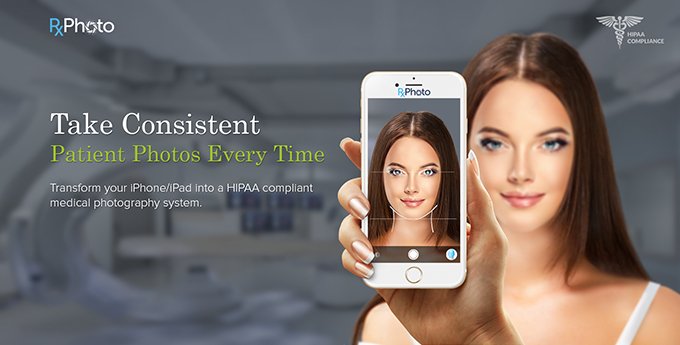 Many Astanza clients have been enhancing their own before and after photos with RxPhoto, a HIPPA compliant patient photography software.

RxPhoto is the leading clinical photography app for taking, storing, organizing, and showcasing progress photos of various aesthetic procedures. By using RxPhoto, tattoo removal clinics, plastic surgeons, medical spas, and dermatology clinics can more clearly track their patients' progress and curate impactful results photos. For more information on how to save on subscription costs, clients can contact your Astanza Laser Account Manager for an exclusive discount.

Need More Photo Tips?
Capturing the perfect photos can be tricky, but it's achievable with a little direction and strategy. During an exclusive webinar, Mastering Before and After Photos to Grow Your Aesthetic Business, Astanza Marketing Specialists share useful tips, tricks, tools, software, and more that can help improve an aesthetic laser business's photo portfolio. Click here or below to access the webinar and learn how to master before and after photos and leverage them to earn more paying clients. This webinar was previously recorded and free to view.


---
This contest is only open to Astanza Laser clients. If you are a patient interested in tattoo removal or other laser services performed with Astanza technology, visit our provider page to find an Astanza provider near you!