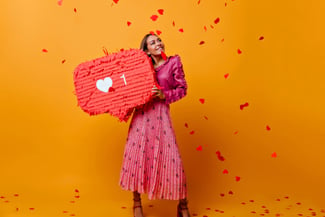 If you own or manage a medical spa, you probably have a website or plan to create one as soon as possible. Since people connect online so much, having a website is solid advice for branding your medical spa. But a website isn't enough. Unless you have clients that have already taken advantage of your services or have a business card with your website address, they might never discover all your services.
While a handful of people search for med spa information by plugging keywords into a search engine, nowadays, the bulk of time spent during online leisure time is on social media. Because of this, having the right presence on social media for aesthetic practices is an integral part of building a brand for your medical spa.
Social Media for Medspas
When planning your medical spa's presence for social media, it is essential to cover all your bases. List the services you provide or want to provide and find a visual way to grab people's attention on the major social media outlets. Medspa social media should, at the very least, include Instagram and Facebook as these are both platforms that support a lot of visual content. Your content should have a heavy impact on a potential client's social media feed while also showcasing the personality of your business along with the services you provide on your profile and highlights.
Importance of Instagram for Your Branding Journey
Instagram can give one of the most visual and interactive experiences of the various forms of social media available, making Instagram perhaps even more important than Facebook for medspas. You can also simultaneously post to Instagram and Facebook so that followers on both platforms can tell what you are doing in your business. You can even have multiple Instagram accounts that focus on different aspects of your brand. Some people might be interested in learning more about your laser hair removal services, and others might want to look at your Instagram account for laser tattoo removal.
Instagram and Facebook offer advertising platforms to help your business market different discounts and other incentives, whether they need a tattoo removed or want a cosmetic procedure done that your business has expertise in.
Posts, Stories, Reels, and IGTV
With Instagram, you can choose the level of impact depending on the service you are promoting. A post offers followers a place to stop and stay awhile, and it is easy to engage with customers in a non-immediate way. Stories are only visible for 24 hours, so they are great for limited-time offers. Live Video and IGTV let you engage in real-time with customers and really show them who you are as a business.
Learn More About Social Media Marketing at NLLC
If you don't already offer laser tattoo removal, you may want to consider adding this popular services to your aesthetic practice and getting trained at New Look Laser College. While it was once thought that tattoos were forever, that isn't the case anymore, thanks to advanced laser technologies. New Look Laser College has a highly educated staff that includes medical professionals, business professionals, and certified laser specialists. The NLLC course has been taught worldwide, and our students range from plastic surgeons to vein specialists to dermatologists, tattoo artists, and estheticians.

During the second day of the course, we have an intensive business section covering regulations, insurance, choosing the best office space, using social media, PPC, and other means to market your laser tattoo removal services.
To learn more about the potential of Instagram and other social media, check out and follow our Instagram accounts.

New Look Laser College - https://www.instagram.com/newlooklasercollege/.
Astanza Tattoo Removal https://www.instagram.com/astanzatattooremoval/.
Astanza Laser - https://www.instagram.com/astanzalaser/