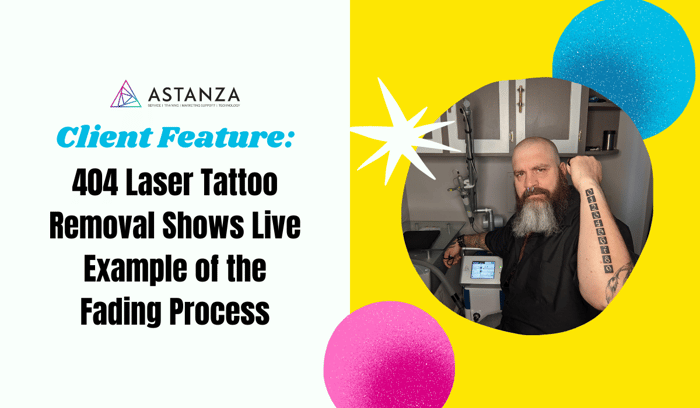 If you haven't noticed already, Astanza loves to feature our clients for their amazing work! This week, we want to highlight 404 Laser Tattoo Removal for one of the smartest campaigns we've ever seen. Liam Shelton, the fou
nder of 404 Laser Tattoo Removal, has tattooed the numbers 0 through 9 on his forearm to track the laser removal process and give a visible representation of the expectations customers should have during their treatment progress.
Keep reading to learn more about 404 Laser Tattoo Removal, where Shelton's creative fading idea came from, and what he hopes to accomplish through it.
---
About Liam Shelton and 404 Laser Tattoo Removal
How did you get into laser tattoo removal?
"I had some old tattoos in an older style that didn't fit me personally anymore. I visited many artists but couldn't find anyone who could incorporate anything new to make me like the tattoo. One of the tattoo artists I visited recommended laser tattoo removal. He offered the service right there in his shop, which was so convenient. Looking back, I don't think I would have gotten laser tattoo removal if he sent me elsewhere. After my laser tattoo removal experience, I proposed doing laser tattoo removal in my friend's tattoo shop, Thompson Tattoo, and he loved the idea. The rest is history!"
Contrary to popular belief, laser tattoo removal is not limited to erasing unwanted tattoos. Numerous tattoo artists, laser providers, and physicians use laser tattoo removal to fade and modify tattoos, improve cover-up tattoos, and make room for new artwork.
Are you interested in adding laser tattoo removal to your tattoo shop? Read our free ebook, "How to Get Started with Laser Tattoo Removal," to learn more!
The 0-9 Removal Idea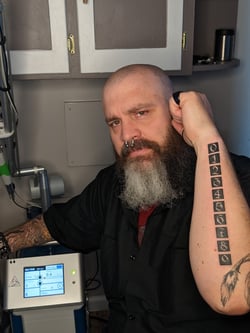 What sparked the idea to get 0-9 tattooed and removed from your arm?
"The idea actually stemmed from my clients and interested prospects. The most common questions I get asked are, "how many sessions will I need?" or "what's the process going to be like?" Of course, everyone's body heals differently, so it's hard to explain in words what a client should expect."
Check out our blog to read more about the most frequently asked patient questions for laser tattoo removal.
404 Laser Tattoo Removal's Goal
What do you hope to accomplish through this physical representation of the fading process?
"I want to show people a real-life example to help them understand the laser tattoo removal process more clearly. Most clients need an average of 5 to 10 treatments for complete removal and less for fading. I decided it was easiest to get opaque numbered boxes tattooed on my arm and perform laser treatments according to their number to demonstrate the fading process in real-time and real life. Then, during consultations, I can say, 'this is how it worked out for me' and compare it to where they are in their process while giving them a general idea of what their results will look like based on the number of sessions they will need or the desired look they wish to achieve."
404 Laser Tattoo Removal is kicking off its 0 to 9 fading process this Saturday, August 14, in celebration of National Tattoo Removal Day, in addition to offering 20% off packages of three or more sessions until the end of the month. National Tattoo Removal Day is a registered day that celebrates the laser tattoo removal treatment, industry, recipients, businesses, and practitioners nationwide.
Be sure to follow them on Facebook and Instagram to see how Shelton's 0 to 9 fading process turns out! To schedule a free consultation with 404 Laser Tattoo Removal, visit https://www.thompsontattoo.com/, call (208) 534-6449, or email Liam at 404ltr@gmail.com. 404 Laser Tattoo Removal is located at 229 Lomax St, Idaho Falls, ID 83401.
---
Interested in joining in on the National Tattoo Removal festivities? Click the image below to download your very own graphics for National Tattoo Removal Day! Don't forget to follow National Tattoo Removal Day on Facebook and use the hashtag #NationalTattooRemovalDay so we can see your activity !