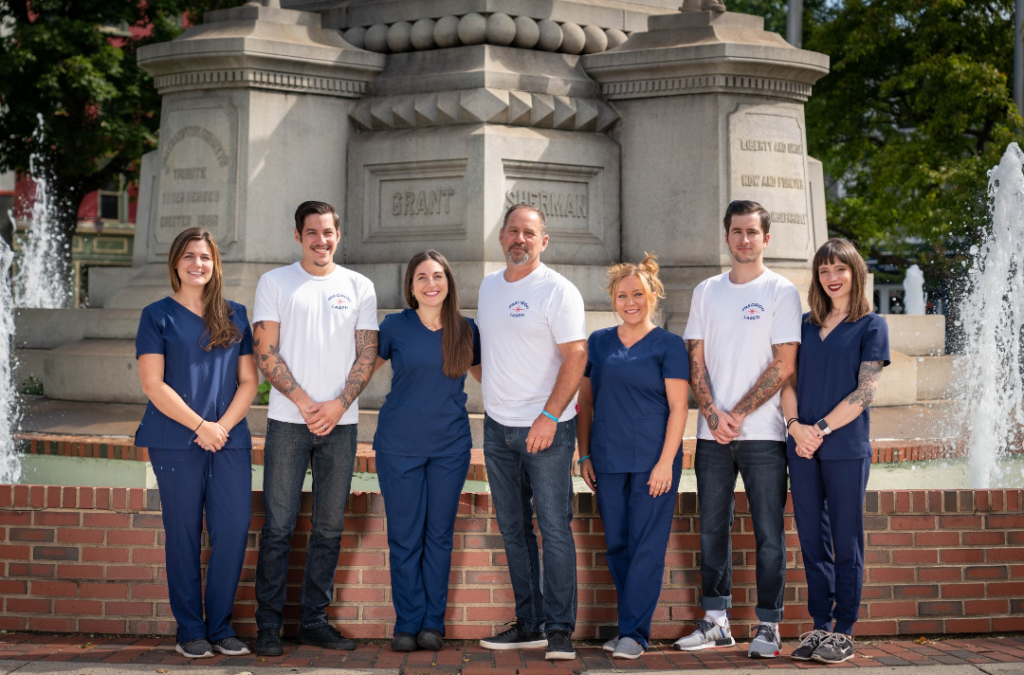 Astanza is always proud to feature our clients, their successes, and their growth to showcase how they use Astanza technology to impact lives in their communities. One laser practice that has become the preferred choice for laser aesthetics in the Easton, PA region is Precision Laser.
Precision Laser is a family-owned and operated business that the Aversa family founded in May 2019. What began as a laser tattoo removal specialty business using the Astanza Trinity laser has since expanded into a full-service aesthetic laser business thanks to the Asclepion MeDioStar diode laser, backed by Astanza.
We recently interviewed Jessica Talley, Precision Laser's Office Manager, to hear more about Tattoo Removal Ink's beginning days, struggles, lessons learned, and successes. Keep reading to learn more about this growing aesthetic laser business.
Why and how did you start Precision Laser?
"My brother is a skilled cover-up tattoo artist and found himself redirecting all of his cover-up clients to get their tattoos lightened with laser tattoo removal. With the help of my dad, our siblings, and the Astanza Trinity laser, we established Precision Laser! In the beginning, we were a laser tattoo removal-focused business that specialized in removing unwanted tattoos and tattoo modification. At the end of 2020, we had built a large clientele base and were receiving numerous inquiries about laser hair removal and other aesthetic services, so we added the MeDioStar laser and are now a full-service aesthetic practice."
Many entrepreneurs and laser business owners start by focusing on one procedure or product before expanding their service list. By specializing in a single procedure as Precision Laser did, you can establish your aesthetic practice as an expert in that service. Once you've gained the trust and confidence of your customers, you can then expand your services by adding on laser hair removal or other similar services that your current customer base is interested in.
Do you have an existing medical spa or aesthetic practice? Are you looking to expand your list of services? Be sure to watch our on-demand webinar and download our free eBook on growing your practice with laser hair removal.
What marketing lessons did you learn that have been instrumental to Precision Laser's success?
"Learn how to use social media! My brother was in charge of Instagram initially, but eventually, it got passed on to me. I was insecure about my posts and the information I was putting on our profile. I decided to take an online course with a social media influencer who taught me many tips. The biggest takeaways I learned are listening to clients, posting things they'll engage with, and providing content to teach valuable information about our services. Also, people trust online reviews, so don't be afraid to ask clients to leave a Google review!"
More consumers refer to businesses' social media profiles to learn more about the practice and services before committing their time and money. Having a social media presence is one thing, but actively engaging with followers, establishing influencer connections, using the right hashtags, and more can take your aesthetic business to the next level. Google reviews are beneficial when converting potential prospects into paying customers and boosting your online presence and search ranking.
Can you share a story about #changinglives?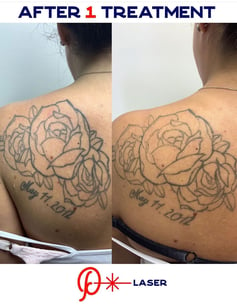 "We had a client come in to fully remove a large shoulder tattoo from a bad part in her life in hopes of wearing a strapless dress for her wedding day. The client had family members that did not know about her tattoo, which made her self-conscious whenever she was around them and even more burdened since she wanted to wear a strapless dress down the aisle. We were so honored to help her reach her tattoo modification goals and make her big day everything she dreamed of without the stress of trying to cover up her secret."
How has Astanza helped Precision Laser since you've become a client?
"Coming from a family-owned company, I feel like Astanza has the same family-like vibe. They are always there when our device needs servicing, and their team members always give us honest feedback on what they think will help us. Everyone is always looking out for our best interest at heart. We have had and continue to have great experiences with all of the staff at Astanza. From customer service, technical support, the best equipment, and marketing assistance to the all-around concern for our success."
Precision Laser is the leading aesthetic laser practice in Easton, PA, and continues to deliver the best laser tattoo removal, laser hair removal, spider vein removal, acne treatment, and more to locals and residents in surrounding cities. To learn more about Precision Laser, visit https://precisionlaserspecialists.com/, email appt.precisionlaser@gmail.com, or call (484) 306-0089. Precision Laser is located at 42 S 3rd Street Easton, PA 18042.
---
We are so excited to feature Jessica Talley as a guest host alongside Brian Hasenbauer, Astanza's VP of Marketing, on our upcoming webinar, "Social Media Marketing for Med Spas and Aesthetic Professionals." They'll share valuable insights on using social media to grow your aesthetic business. The live webinar is free to view and will take place on Tuesday, May 18th, at 1:00 pm CST. Click here or the image below to reserve your spot. If you're not able to attend the live event, don't worry! All registrants will receive a recorded copy of the webinar.