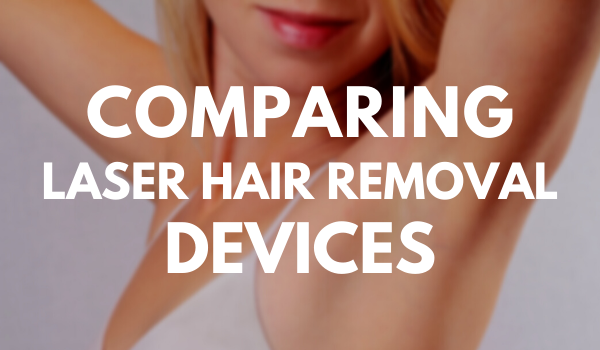 Laser hair removal has undoubtedly become one of the most sought-after aesthetic procedures in the industry. Since entering the mainstream market in the early 90's, technology has rapidly evolved, allowing practitioners to provide more effective laser hair removal treatments and better patient-experiences. Older laser hair removal technology, like the the Candela GentleLase, still lingers in several med spas and laser clinics, perpetuating old myths and misconceptions surrounding the procedure.

The Astanza ReSmooth by Asclepion (MeDioStar NeXT) consistently outperforms these systems in speed, efficacy, patient experience, maintenance and more. Keep reading for an in-depth comparison between the Astanza ReSmooth and Candela GentleLaser hair removal devices!



1. SPEED & SPOT SIZE - Treat More Clients Every Day
Practitioners who've switched to the ReSmooth have noted the huge difference in time spent actually treating their their patients. Using the ReSmooth, you can treat twice as many clients per day within the same amount of treatment time.

In Professional mode, the ReSmooth Standard handpiece is 48% faster than the GentleLase. The ReSmooth XL handpiece's industry-leading 9.1 cm² spot size can treat large areas like a full chest, back, or legs in as little as 4 minutes compared to up to 30 minutes with other devices.

2. EVEN ENERGY DELIVERY - Homogenous Beam Profile
The ReSmooth's homogenous beam profile guarantees even, effective treatments with no hot spots. By employing this technology, practitioners can deliver even pulses of energy across the entire area being treated, as opposed to an initial high pulse of energy that tapers, resulting in "choppy" treatments.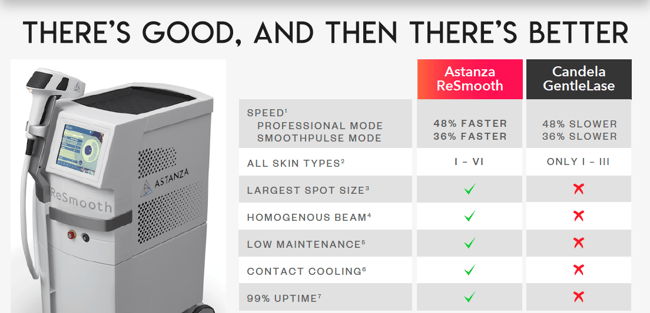 3. PATIENTS - Treat All Skin Types and Increase Patient Comfort
It was previously accepted that patients with darker skin tones can't be candidates for laser hair removal. However, the ReSmooth can safely and effectively treat all skin types (Fitzpatrick Skin Types I - VI) with the Standard and XL interchangeable handpieces used with a singe ReSmooth device. The GentleLase, on the other hand, requires three separate devices to treat all patient skin types.

For added patient comfort, the ReSmooth also features integrated contact cooling deployed immediately prior to each pulse with no need for an air cooled option or expensive cryogen consumable.

4. MAINTENANCE - Low Maintenance + Astanza Service Guarantee
Older, less efficient and reliable lasers require frequent upkeep and expensive consumables. The only regular maintenance the ReSmooth requires is the addition of low-cost BC4 fluid. The GentleLase has high operating costs and requires regular replacement of flashlamps, fiber handpieces, and is prone to breaking.

In addition to enjoying a low-maintenance, reliable device, ReSmooth users never have to worry about their laser being down. Astanza's award-winning Service Department regularly schedules preventative maintenance visits to inspect and service devices. In addition, the Astanza service guarantee provides a loaner device or handpiece if you ever experience a major issue.

With new aesthetic laser technology, like the Astanza ReSmooth, emerging every day, it's crucial for practitioners to stay ahead of the curve to keep up with patients' expectations and changing needs. To learn more about the changing landscape of the aesthetic industry, click here or below to watch the pre-recorded webinar, "2020 Aesthetics Trends and How They Affect Your Business!"