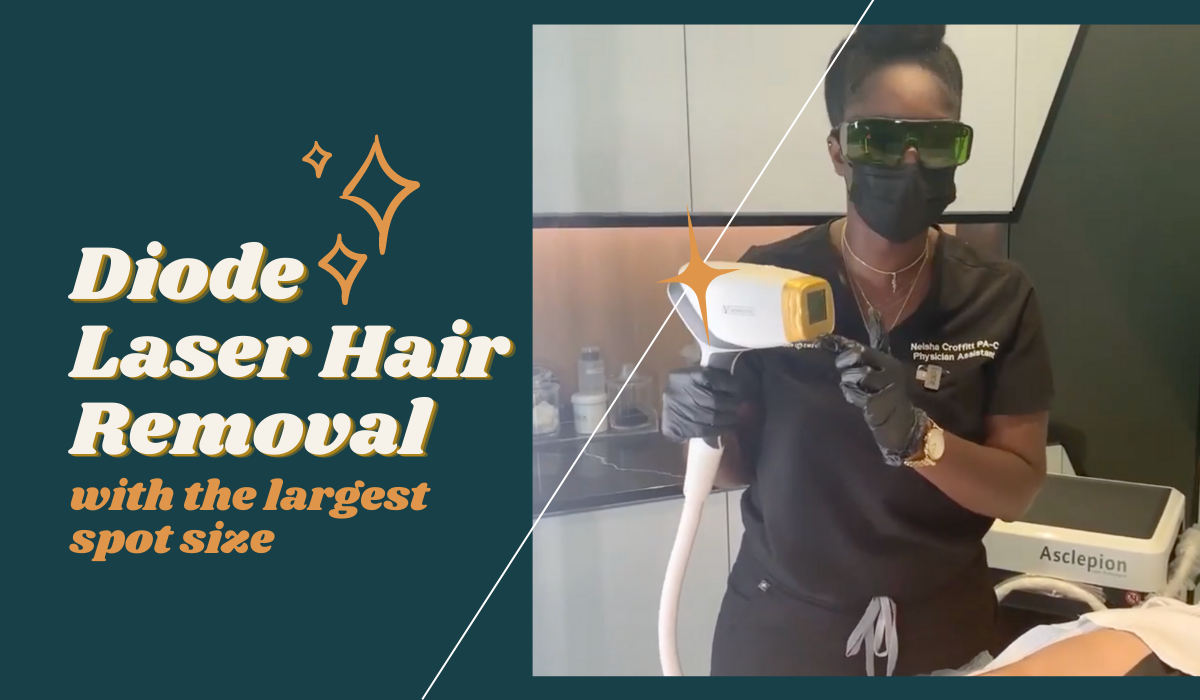 The Asclepion MeDioStar® diode laser revolutionizes hair removal treatment and other aesthetic procedures thanks to its intuitive design and leading advancements in technology. Featuring a cutting-edge cooling system, an industry-leading spot size, numerous treatment capabilities, improved overall user experience, and much more, the Asclepion MeDioStar®, backed by Astanza, is the preferred choice for aesthetic practitioners, dermatologists, plastic surgeons, and leading medical spas.
In a recent Instagram video by Neisha Croffitt, PA-C, at Dr. Jason Emer's office in Beverly Hills, Croffitt discusses some of the features that make the Asclepion MeDioStar the most sought-after diode hair removal laser on the market.
---
Industry-Leading Spot Size
In the video, Croffitt covers the most significant features of the MeDioStar while answering questions from interested viewers. Right off the bat, Croffitt boasts about the MeDioStar's large handpiece interface. However, viewers can see just how large the handpiece's spot size is even before her explanation. Croffitt explains that, unlike other lasers, the MeDioStar's large spot size makes treatments not only super quick but convenient for both her and her patients.

As seen in the video, the MeDioStar's XL handpiece spot size measures at 10 cm2, an industry-leading proportion, making treatment sessions extremely quick for areas such as the legs, back, chest, and arms. In fact, the MeDioStar XL handpiece can treat an entire back in as little as 4 minutes! This feature alone is why leading physicians, aesthetic practitioners, and patients prefer laser hair removal treatments with the MeDioStar.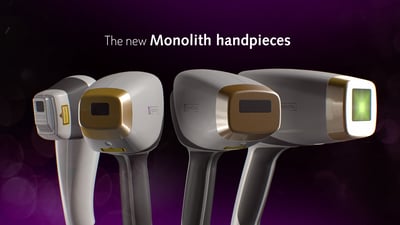 A few viewers sent in questions regarding treatments on smaller areas like the bikini, face, and underarms. Croffitt shows the secondary, full-powered S handpiece specifically designed to deliver precise treatments on smaller areas. In addition, most MeDioStar owners use at least two handpieces from the MeDioStar's impressive Monolith handpiece line to treat body parts of all sizes. The Monolith handpiece series contains various spot sizes ranging from S, M, L, and XL.

Safe for All Skin Types
In the video, a viewer asks whether or not the MeDioStar is safe for all skin types. To which Croffitt replies yes! Unlike other lasers that are unsafe on darker skin types, the MeDioStar provides safe and effective treatment for light and dark skin types. Despite not being mentioned in the video, we'd like to share that the MeDioStar laser is even effective on newly tanned skin. This feature is a huge benefit for patients who live in hotter climates, enjoy being out in the sun, or recently traveled to a sunny destination. Other lasers cannot account for patient skin type changes during the treatment process and often have to delay treatment, which can inconvenience both patients and practitioners.
Integrated Cooling for Maximum Comfort
Another feature that Croffitt makes sure to talk about is the gold frame on the handpiece. Not only is the gold detail aesthetically pleasing and sleek for any practice, but it also serves an essential function that every patient desires: contact skin cooling.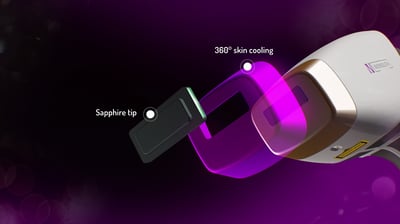 The 360° contact skin cooling system helps to cool the epidermis efficiently before each pulse. Although patients might feel a warm prick sensation, the 360º skin cooling feature makes treatments very comfortable while protecting the skin from thermal injury.
Furthermore, the 360º contact skin cooling feature allows for treatment in any direction, making treatments more pleasant and gentle for the patient and much quicker than other systems. For example, in the video, you can see Croffitt cool her patient's skin before treatment by gliding the handpiece tip back and forward over the treatment area. By doing so, the patient's thigh is efficiently cooled in a matter of seconds for extra comfort.
---
As you can see from the features discussed in this article, the MeDioStar is one of the best additions to any laser hair removal practice. Since investing in this unrivaled diode technology, Dr. Jason Emer's world-renowned aesthetic clinic has seen a rise in laser hair removal treatments.
Learn more about Dr. Emer's experience with the MeDioStar at his Beverly Hills practice by watching our pre-recorded webinar, "Dr. Jason Emer Talks Advanced Laser Hair Removal for Med Spas!"
Are you interested in adding or upgrading your laser hair removal device to the MeDioStar? Click here to learn more.