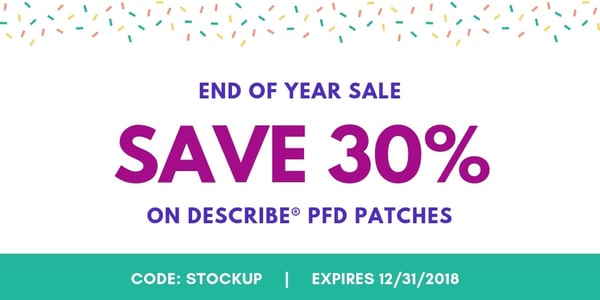 It's sale time at Astanza! We love helping you grow your business and score some awesome deals along the way. Astanza is offering a limited-time deal on DESCRIBE® PFD Patches! With this special year-end promotion, you'll receive:
30% off 1 box of 10 single-use DESCRIBE® PFD Patches
PLUS these free marketing materials:
– 2 packages of PFD Patch brochures (20 total)
– 2 window clings
– 1 tabletop display
What is the DESCRIBE® PFD Patch?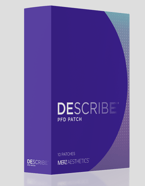 The DESCRIBE® PFD Patches are FDA cleared, small squares of silicone infused with PFD (Perfluorodecalin) – a completely inert, harmless liquid that allows practitioners to treat a tattoo several times with the laser in a single treatment session. The PFD liquid resides between two layers of silicone. The upper silicone layer prevents the PFD liquid from evaporating and protects the skin from heat emitted from the laser. The lower silicone layer gently adheres the Patch to the patient's skin.

What Does the Patch Do?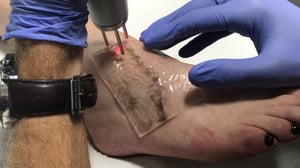 Using the DESCRIBE® PFD Patch, laser tattoo removal practitioners are able to complete more than one pass with the laser over a patient's undesired ink during a single treatment.†

Practitioners can achieve up to 3-4 laser passes over the same area per treatment as opposed to only 1 pass without the DESCRIBE® PFD Patch.
The Patch also helps the laser reach ink particles deep within the skin, which may be beneficial for older, more stubborn tattoos.†


Are There Any Benefits from Using the Patch?
Short answer: YES!
Laser practitioners who use the Patch are not only able to improve treatment quality for their patients, they're also able to expand their services and grow revenue for their business!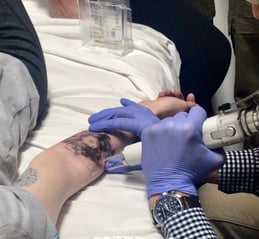 Added Value
Using the DESCRIBE® Patch adds to value to your business by increasing what you can charge patients and earn in revenue per treatment.

Faster Results
Typically, laser tattoo removal patients typically can see better results in fewer treatments.†

Better Compliance
Patients using the PFD Patch tend to follow their treatment plans more closely, decreasing the chance of unwanted side-effects.†
Apply Coupon Code: STOCKUP at Checkout
Buy DESCRIBE® PFD Patches Now!

Apply coupon code at checkout. 30% discount applicable toward up to 10 boxes of 10 single-use DESCRIBE® PFD Patches per customer. Free DESCRIBE® PFD Patch marketing materials (2 packages of brochures, 2 window clings, and 1 tabletop display) only available through purchase with coupon code. Limit 10 per customer. Offer valid only in the US while supplies last.


ADDITIONAL RESOURCES:
DESCRIBE® PFD Patch Frequently Asked Questions
Get More Information | View Instructions for Use

IMPORTANT SAFETY INFORMATION
The DESCRIBE® PFD Patch is a single-use, optical clearing device accessory for use in laser-assisted tattoo removal procedures. Side effects, including pain, erythema, and edema were reported during laser tattoo removal.The DESCRIBE® PFD Patch is available only through licensed physicians. For full product and safety information, please visit www.DescribePatch.com/IFU .

† Compared to treatment without the Patch.

Learn How to Use the Patch at New Look Laser College!