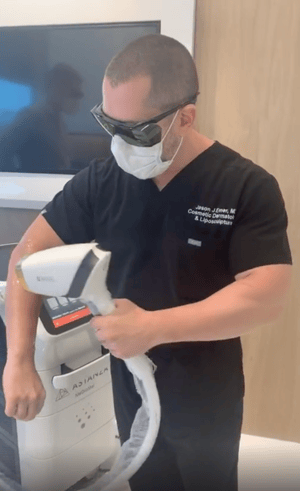 If you or anyone you know is interested in the aesthetic industry, then you've definitely come across the name Dr. Jason Emer. Not only is he a board-certified dermatologist and one of the most renowned cosmetic dermatologic surgeons in the world, Dr. Emer runs one of the most exclusive aesthetic practices in West Hollywood and has worked on some of Beverly Hills most notorious bodies.
Dr. Emer has been featured in various news articles and even TV shows including The Doctors, Modern Aesthetics, Bazaar, Cosmopolitan, Elle, Men's Fitness, and more. On social media, he's notorious for sharing honest reviews of skincare products, impressive before and after results, behind-the-scenes surgery videos, live filler treatments, as well as inside looks at the amazing laser technology he uses.
Recently, Dr. Emer posted an Instagram video of him performing laser hair removal on himself with his newest laser addition, the Astanza MeDioStar by Asclepion. Didn't catch the video on your feed? Not to worry! We've got a direct link to the post below.
Speed, Patient Comfort, Versatility
In the 7-minute live video, Dr. Emer talks about the industry-leading MeDioStar® laser, or as he refers to it, "the Ferrari of hair removal." Within a matter of seconds, Dr. Emer shows a fast treatment of his entire forearm without any numbing or pain. "I can treat an entire arm in minutes which is unlike any other device we have," Dr. Emer boasted.
As an experienced surgeon and aesthetic expert, Dr. Emer discussed some of his favorite MeDioStar® features, including the large 10 cm2 spot size for speedy treatments and the super fast pulses which allow for higher energies over larger areas without any pain. Furthermore, the live treatment showed no redness or painful reaction due to the laser's contact cooling and SmoothPulse mode.
In response to a follower's question about safely treating dark skin tones, Dr. Emer answered that the MeDioStar® is not only good for all skin types, it's especially safe and allows customization for how the energy is delivered on darker skin types. Compared to IPL lasers that nearly burn darker skin types, the MeDioStar® offers safer, faster, and more effective results for lasting hair removal reduction.
"This is the Astanza MeDioStar®, one of the best laser hair removal devices on the planet," said Dr. Jason Emer. "There's other things that this company has that I love, and you guys see it all the time, I use the Erbium, tattoo removal, and hair removal."
Get Connected
To see more of the MeDioStar®, you can direct message Dr. Emer on his Instagram and request to see treatments on specific body areas. Be sure to follow Astanza and Asclepion as well for the latest MeDioStar® updates and news.
Also, don't forget to check out the exclusive pre-recorded webinar, The Future of Laser Hair Removal with Dr. Jason Emer, as he talks in-depth about the MeDioStar and all of it's features.
For additional questions about pricing or laser specifications, contact an Astanza representative today.