Astanza Laser is thrilled to host world renowned surgeon and Astanza client, Dr. Robert H. Burke, MD FACS at our Modern Advancements in Tattoo and Hair Removal seminar, November 1 in Tampa, Florida.

Dr. Burke is an incredibly accomplished leading expert in the aesthetic industry. A multiple board-certified surgeon, he also serves as a journal editor and educator. Dr. Burke is the founder and director of the Michigan Center for Cosmetic Surgery, an AAAHC accredited surgical facility. He also serves as a Clinical Professor of Plastic and Reconstructive Surgery and Facial Plastic Surgery at both Michigan State University and the University of Michigan.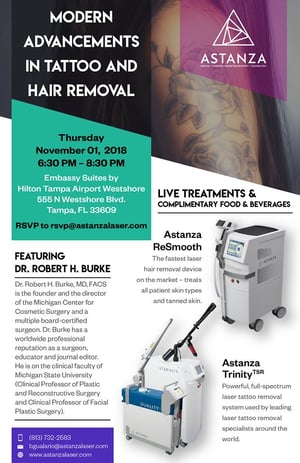 Seminar attendees will hear insights on the latest innovations and trends in laser tattoo removal, hair removal, and the aesthetic market as a whole. Leading the industry in tattoo removal technology, Dr. Burke uses the Astanza Trinity system for laser tattoo removal at his own practice. The Astanza Trinity is the preferred choice for elite practices because of its top-of-the-line technology and ability to treat colorful, resistant inks. Featuring three different wavelengths among two standalone lasers, the Trinity system can treat any tattoo quickly, safely, and effectively.

Dr. Burke will also be discussing the Astanza ReSmooth, the leading hair removal laser in the industry with a fast and pain-free hair removal experience. The ReSmooth's advanced diode technology uses dual wavelengths to treat any hair thickness and skin type with shorter treatment time.

Attendees will get to see these lasers in action with live treatments on laser tattoo removal and laser hair removal patients. To hear why the Astanza Trinity and Astanza ReSmooth are the preferred lasers for top-practitioners around the world and enjoy remarks from Dr. Burke, RSVP to rsvp@astanzalaser.com .
November 01, 2018 | 6:30-8:30 PM
Embassy Suites by Hilton Tampa Airport Westshore
555 N. Westshore Blvd.
Tampa, FL 33609

Please RSVP by emailing:
rsvp@astanzalaser.com