Laser practitioners and patients alike can't get enough of the latest tattoo removal accessory, the DESCRIBE® PFD Patch.

What is the DESCRIBE® PFD Patch?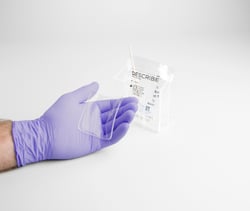 The DESCRIBE® PFD Patches are FDA cleared, small squares of silicone infused with PFD (Perfluorodecalin) – a completely inert, harmless liquid that allows practitioners to treat a tattoo up to four times with the laser in a single treatment session.

The PFD liquid resides between two layers of silicone. The upper silicone layer prevents the PFD liquid from evaporating and protects the skin from heat emitted from the laser. The lower silicone layer gently adheres the Patch to the patient's skin.

A certified laser tattoo removal practitioner applies the PFD Patch over the area being treated so that the laser fires through it. After each pass, the practitioner readjusts the Patch to use a fresh section. Often times, users will see real tattoo ink ejection during the course of a laser treatment when using the DESCRIBE® PFD Patch. Although ink ejection is possible, the silicone patch acts as a barrier that catches any bio-splatter, protecting both practitioners and patients.

Not only does the Patch allow up to 4X as many laser passes per visit compared to conventional treatment, it also helps the laser reach ink particles deep within the skin, which may be particularly beneficial for older tattoos.





Why Practitioners Love It
Tattoo removal providers are able to improve both treatment speed and quality as well as grow revenue when they introduce the Patch to their practice. By adding the Patch to a tattoo removal treatment plan, practitioners are able to charge more and increase revenue per treatment.

In addition, patients using the PFD Patch tend to follow their treatment plans more closely, decreasing the chance of unwanted side-effects.†

Why Patients Ask for It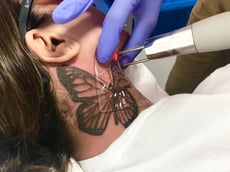 The DESCRIBE® PFD Patch has been gaining popularity not just among laser practitioners, but also among tattoo removal patients.

It's become more commonplace for patients to request the Patch and ask their providers if they offer it to compliment their tattoo removal treatments.

Patients are joining #TeamPFD because of the unparalleled results they're achieving in conjunction with leading laser technology. Patients are able to achieve their desired tattoo removal goals faster and with fewer treatments using the DESCRIBE® PFD Patch because practitioners can now perform multiple laser passes over unwanted ink during a single session, compared to one pass without the Patch. The Patch also helps the laser reach ink particles deep within the skin, which may be beneficial for older, more stubborn tattoos.†




IMPORTANT SAFETY INFORMATION
The DESCRIBE® PFD Patch is a single-use, optical clearing device accessory for use in laser-assisted tattoo removal procedures. Side effects, including pain, erythema, and edema were reported during laser tattoo removal.The DESCRIBE® PFD Patch is available only through licensed physicians. For full product and safety information, please visitwww.DescribePatch.com/IFU .

† Compared to treatment without the Patch.