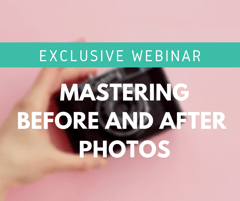 Impressive before and after photos are a key factor in promoting an aesthetic laser business, but having the right tools and a strong strategy to share them is just as important!

Astanza recorded a webinar where we shared inside secrets on how to take better before and after photos of the laser services you provide, and how to use them to grow your aesthetic business. Click here to watch the pre-recorded webinar: Mastering Before and After Photos to Grow Your Aesthetic Business!

What You'll Learn
During this webinar, we'll cover a wide variety of topics dedicated to helping you grow your aesthetic laser business with before and after photos. Here are few things you'll learn / questions we'll answer:

Best technology for taking before and after photos (smartphone vs. camera)
How do I avoid my photos being stolen (or shared without credit)?
What are the best collage apps or photo-editing apps for before and after photos?
Why are before and afters important in the aesthetic industry?
How can I optimize my before and after photos for sharing on social media?
Tips for taking more consistent before and after photos

We're pulling from not only Astanza's best practices but also from some of our awesome clients who have built extensive, jaw-dropping portfolios of before and after photos and have excelled at leveraging them to grow their laser businesses.

Why We're Doing It
Our goal is to help our clients and those interested in the laser business be successful by providing them with relevant resources and tools. Astanza began as a leading innovator of tattoo removal technology and now offers the most advanced product line of aesthetic lasers in the world. Pair that with the Astanza Experience, which features our 3-business day service guarantee, lifetime training and clinical support, and comprehensive marketing support, including 60 leads in 60 days for your business, and you've got a long-term recipe for success. We had several folks messaging us and inquiring about improving their photo-game, and we couldn't leave them without an answer.

(Basically: you asked, we listened, and now we're answering!)

Meet Your Hosts
Your lovely hosts for this exclusive webinar are Astanza Laser Marketing Team members, Amy Yan (Client Success Manager) and Jessie Brandt (Marketing Specialist)!

As Client Success Manager, Amy manages our client's digital marketing upon investing in our technology and helps new clients generate 60 leads in 60 days as part of the Astanza Experience. Amy specializes in SEO, Google AdWords / PPC optimization, and writing SEO-friendly website content for each client's unique laser business. Amy makes sure our clients have the marketing tools they need to successfully launch their laser business or introduce a new laser treatment to their existing patients.

Jessie handles all things related to the Astanza and New Look Laser College (NLLC) brand marketing in her role as Marketing Specialist. This includes social media management, email marketing, blogging/content creation, designing promotional content, etc. She also helps our Sales Team with Market Assessments for prospective clients and occasionally teaches the Marketing section during NLLC.

Amy and Jessie are so excited to share their combined experience and expertise with our webinar viewers to help them improve their before and after photos!

Ready to Dive In?
For those interested in mastering before and after photos of their laser treatments, join Amy and Jessie for this pre-recorded webinar!

Mastering Before and After Photos to Grow Your Aesthetic Business
FREE TO VIEW
Click here or the image below to sign up!