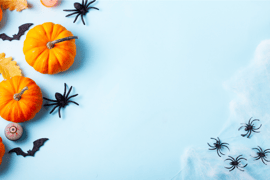 To celebrate #Halloween2020, we took to the jack-o-lantern-lined streets to survey some of our more ghoulish patients and find out how satisfied they were with their recent aesthetic treatments performed with Astanza Laser technology. Astanza is proud to offer aesthetic devices to help patients achieve their desired look, regardless of skin tone or hair type.
Let's see how these patients felt about their respective Erbium:YAG skin resurfacing, diode hair removal, and "Celebrity Peel" laser treatments!
Frankenstein Feels Like a New Man After Scar Correction with Erbium:YAG Laser
We were excited to hear how our skin resurfacing patient was enjoying his refreshed skin post-procedure. "Receiving a treatment with the DermaBlate Erbium:YAG laser gave my skin the jolt it needed," said Frankenstein.
"I feel more like a man than a monster after treating the scarring left behind from my first big operation. Someone should've told my surgeon to go easy on the stitches!"
Like many plastic surgery patients, Frankenstein was pleased with the initial results from his "first big operation," but he was still self-conscious about the post-op scarring left behind. We were happy to administer ablative skin resurfacing treatments with the leading Erbium:YAG laser, the DermaBlate, to help him achieve his desired look. Click here to learn more about the skin resurfacing laser preferred by leading dermatologists, mad scientists, and cosmetic surgeons.
Werewolf Cleans Up Pesky Neck Beard with New Diode Laser Hair Removal Treatment
"I can't tell you how annoying it was dealing with my neckbeard while going on my late-night runs," said a local werewolf. "Now, I save time by not having to maintain my beard line, AND my skin glistens in the moonlight."
We treated this friendly neighborhood werewolf's neckbeard area with the new MeDioStar diode hair removal laser, the leading device for fast, safe, and effective hair removal for all skin types. Bearded men commonly request this treatment after growing tired of shaving their neck and experiencing uncomfortable ingrown hairs. We were glad we could help him achieve the look that matches his on-the-go lifestyle! Learn more about the MeDioStar diode laser here.
Note: Our werewolf friend had no interest in a full-body treatment, and we apologize for any offense taken by our asking.
Mummy Wakes Up Refreshed after "Celebrity Peel" Laser Treatment. Says She Feels Centuries Younger
"I know plenty of sleep is important for healthy skin - believe me, I've had years of it. Still, nothing helped my skin feel as refreshed and revitalized as the Celebrity Peel treatment I just had!" said our mummified colleague.
"I look almost as good as I did in my heyday! Cleopatra's got nothin' on me!"
We were thrilled that this patient was so satisfied with her treatment! A "Celebrity Peel" is a commonly-requested treatment by the DermaBlate Erbium:YAG laser. Also known as fractional non-ablative skin resurfacing, this procedure has increased in popularity due to the short treatment time and no need for downtime afterward. Patients have requested this gentle DermaBlate treatment to help their skin look and feel "rejuvenated" in the short-term, especially before an event or special occasion.
Learn More About this Devilishly Good Aesthetic Laser Technology
These are just a few of the satisfied Astanza Laser patients* who we were fortunate enough to catch before Halloween, and we're happy we could help them achieve their desired looks with Astanza technology! Astanza is the leader in aesthetic laser technology, service, training, and marketing support for growing med spas, plastic surgery centers, tattoo shops, and other aesthetics businesses. To learn more about growing your business with Astanza leading tattoo removal, hair removal, vascular, and skin resurfacing lasers, click here or below to contact us today!
*We collected one complaint during our survey. Dracula expressed frustration with the MeDioStar's efficacy in treating vascular lesions. He claims it's made his job harder now that his "clients'" varicose veins are undetectable. We apologize for this inconvenience.