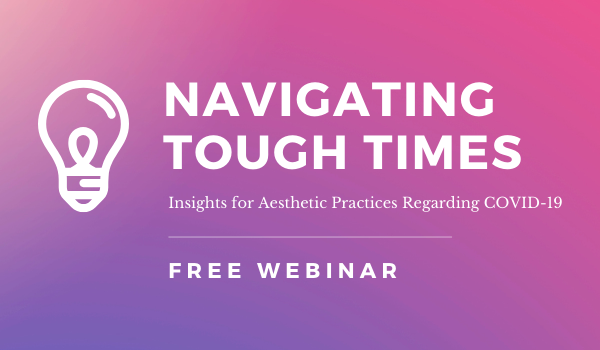 By now, the ongoing COVID-19 situation may have impacted you and your business. During uncertain times, we know that you care most about protecting your team, staying connected with your clients, and prepping your business to move forward once this passes... and it will pass. Astanza is committed to being a helpful resource for our clients and others in the aesthetic industry. During a live, face-to-face webinar, hear useful insight from the Astanza team, partake in a Q&A session, and gain actionable strategies for moving forward from COVID-19. Click here to register.
While we wait for our communities to heal and come back stronger, we highly recommend following the guidelines proposed by your local officials. As a reminder, listed below are a few things you can do to support your team and community as you navigate uncharted territory. Click here to register for the webinar and learn more ways to equip your business for success during hard times.
Stay Safe
Our top priority as a company is ensuring the health and safety of our team, and we know our clients and other aesthetic business owners share this sentiment. Washing hands, disinfecting surfaces, limiting your time in public places, and physical distancing are simple ways to stay safe during this time. If you are able to continue operations at your business location, consider taking additional measures to disinfect your space further to promote the health of your team and your clients.
Stay Connected
Connecting with friends, family, and coworkers may look different now, as several communities experience temporary business closures or limited hours. Make sure you communicate company updates internally with your team and clients, and externally with your prospects and the public. Also, take advantage of this time to connect with your loved ones via text, call, and video chat. It's important to check in with your circle, and extend safe help to those in need.
Look Ahead For Opportunity
While you face uncertainty, use this time to plan your strategy for success. Research loan and other recovery options for small businesses and reevaluate your marketing strategy to best capitalize on the opportunity to "re-open." Also, consider planning a grand-reopening event to re-engage with new and existing clients.
Navigating Tough Times: Register for the Webinar
Stay safe, stay home if you're able, and stay informed. Astanza is always available to offer guidance to our clients and prospects during this uncertain time. Please contact your Astanza Representative with questions and concerns, or contact us directly (email info@astanzalaser.com or call 800-364-9010). Register for the live webinar today, and start planning to move your business forward.
WEBINAR INFORMATION :
Live streaming Thursday, April 2, 2020, at 2:00 PM CST

Free to view

Recording to be distributed to all registrants after the live-stream