Astanza has been certified by Great Place to Work® for two years in a row! The certification comes from the enjoyment our employees get to come to work every day and the positive work environment Astanza strives for.
---
Great Place to Work® rates different workplaces' cultures. Since 1992, more than 100 million employees worldwide have been surveyed to determine what a great workplace looks like. In order to get certified, employees report their workplace experience through a confidential Trust Index© survey, which then gets passed to company leaders with feedback on how to improve their organization and employees' happiness.
Astanza is proud to have 100% of our employees say it is a great place to work, compared To the typical U.S.-based company of 59%! To celebrate, on May 17, 2022, Astanza will be participating in Certification Nation Day!

What Is Certification Nation Day?
Certification Nation Day is a global celebration on May 17, 2022, of the Certified™ great workplaces! Each company that has been certified can go online and share its unique company culture with the world.
Check out Astanza's Instagram to follow along on our celebration!
Astanza's Great Place to Work Values:
Astanza's Certification™ would not be possible without our hard-working and dedicated employees who also know how to have fun! Scoring a 97% Trust Index© shows that our employees enjoy going to work and love what they do! It's also a chance for the management team to hear what our employees have to say about the workplace and how to improve.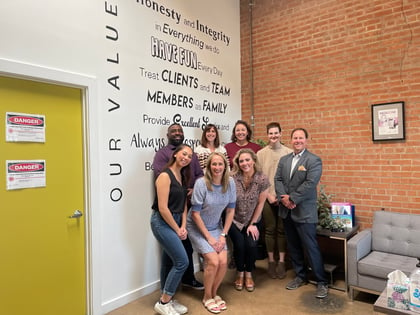 Our workplace culture is built on having initiatives such as BetterBookClub, Fun Fridays, Personal Development Plans, Unlimited Time Off, and 401k matching.
Fun Fridays are a great way to boost employee morale while getting to interact more with the team! Some of the fun activities we've done at our headquarters include virtual games with Jackbox.tv, Derby Day to "bet" on toy horses, nerf gun battles, and baking cookies! In addition to boosting healthy working relationships in the company, the Better Book Club boosts employees' knowledge. In fact, we reward our employees for reading a book from our selected library based on our industry, client success, company culture, and more!
We thrive on having a happy team so that we can get better business results and stronger client relationships. Thanks to our employees, we've been able to develop a fun and unique culture with a strong foundation in communication, honesty, and hard work!
Become Part of the Astanza Team!
Looking to work for a company that puts importance on both success and company culture? Our team is looking for hard-working and driven individuals that are passionate about changing lives through laser aesthetics. Below are our open positions:
Inside Sales and Account Manager
Astanza's inside sales team is looking to add another member who prioritizes customer service and is comfortable establishing and managing high-level accounts. If you've got a competitive spirit and passion for client success, then apply for our Inside Sales and account Manager position today!
Biomedical Engineer/Laser Service Technician
Astanza has received numerous accolades for our award-winning service, and much of that is owed to our exceptional team of service engineers. As a service engineer, you will work closely with Astanza clients to ensure their lasers are in tip-top shape. Become a troubleshooting guru and travel around the world in this hands-on role!
Astanza is looking for an exceptional candidate to lead and expand our award-winning clinical training division. This person will be responsible for New Look Laser College, our laser tattoo removal training course by scheduling patients, lecturing students, and doing the logistics of the course. If you've got a passion for presenting and meeting people around the nation, apply for our Clinical Training Director position!
Our exceptional service team is looking for a coordinator to provide basic level laser support and troubleshooting over the phone or on a video call. If you like to build strong relationships with clients and give the best possible care, this is the job for you!
Digital Marketing Manager (SEM/SEO/PPC/PAID SOCIAL)
Astanza's award-winning marketing team is looking for a Digital Marketing Manager to join our fun-loving, client-driven team. As the Digital Marketing Manager, you will develop, implement, track, and optimize Astanza's and our clients' paid search and advertising campaigns. Lead the venture in acquiring new leads and growing Astanza's family of clients!
For more information or to see the full list of job openings, visit our career page!