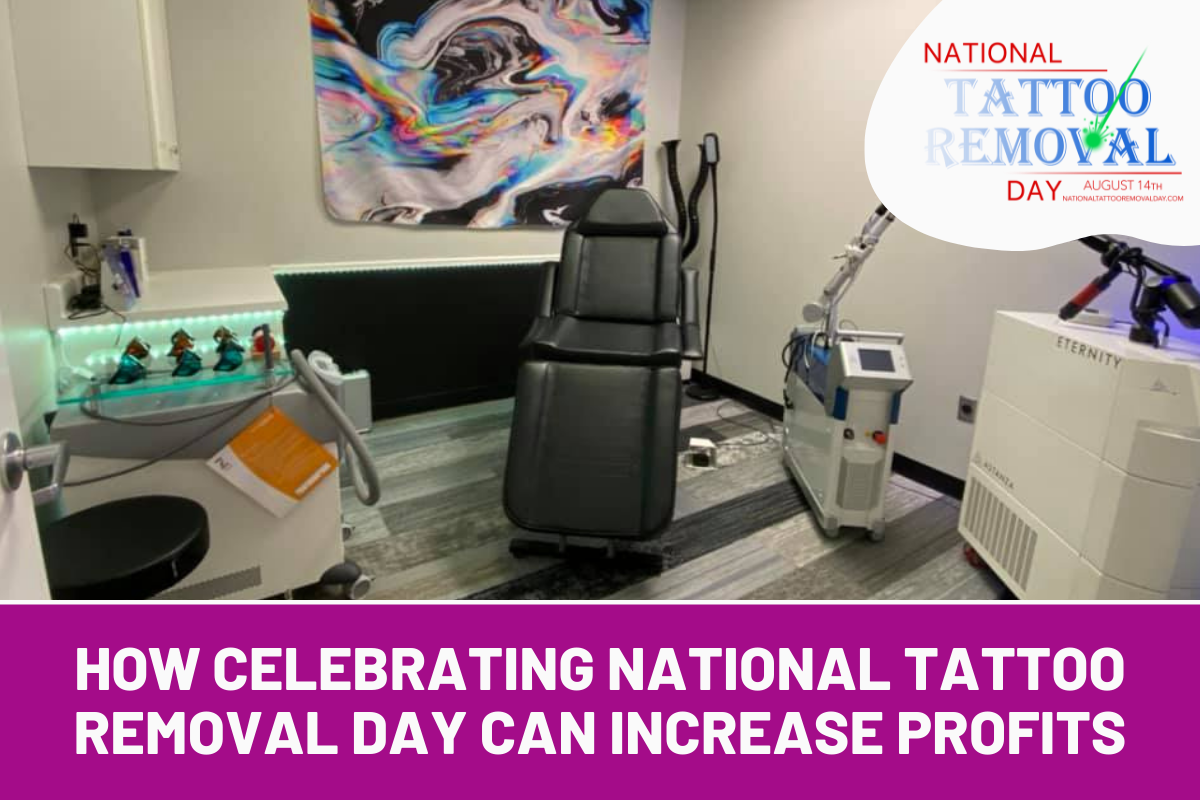 National Tattoo Removal Day is just 46 days away! Each year on August 14, thousands of individuals and businesses celebrate the innovative procedure of laser tattoo removal. Astanza, the leader in tattoo removal laser technology, founded this nationally celebrated day to highlight the laser tattoo removal industry, support patients who removed a tattoo, encourage those interested in laser tattoo removal, and recognize the numerous practitioners and laser tattoo removal businesses that perform this high-demand procedure.
Spectrum Laser Aesthetics, a leading aesthetic practice in Tyler, Texas, has participated in National Tattoo Removal Day the last two years. Even during the COVID-19 pandemic, they experienced their highest laser tattoo removal sales thanks to National Tattoo Removal Day promotions and successful marketing efforts. We recently interviewed Jarod Stevens, co-owner of Spectrum Laser Aesthetics, to learn more about how they profited from celebrating National Tattoo Removal Day.
Keep reading to learn more about Spectrum Laser Aesthetics and their successes, challenges, National Tattoo Removal Day campaigns, and lessons learned.
---
How did Spectrum Laser Aesthetics get started, and how did you guys grow into Tyler's #1 aesthetic laser provider?
"There was a need for an aesthetic practice in Tyler that was set apart from the existing providers. We did just that by providing better technology, more reliable services, engaging staff members, and a friendly atmosphere. Once we established that, people kept coming back. People love Andrea (Spectrum's Office Manager). She has a way of talking to patients and developing relationships beyond just treating them–that's something other aesthetic businesses don't offer. Since the beginning, Spectrum has always focused on providing a warm and inviting place in addition to quality treatments and great results."
Spectrum Laser Aesthetics opened its doors on October 2, 2018, with the Astanza Trinity and ReSmooth lasers. They offer various laser treatments, including laser tattoo removal, laser hair removal, pigmented lesion removal, spider vein removal, acne treatment, photofacials, and much more. Their first year of revenue was $150,000, then $200,000 in their second year, and is projected to be $300,000 in 2021.
What are your most popular treatments?
"The majority of our clients come in for laser tattoo removal and laser hair removal. We perform about 100 treatments per week, 65 being laser hair removal treatments and 35 laser tattoo removal. We mostly receive laser hair removal requests for the chin, upper lip, bikini, and underarm areas and treat a wide range of tattoo sizes with a medium-size tattoo being the most common."
When did you first participate in National Tattoo Removal Day, and what was that experience like?
"We first celebrated National Tattoo Removal Day in 2019. We knew this was a great opportunity to market laser tattoo removal and attract potential clients. So we started marketing three weeks in advance through boosted posts and ads on Facebook and Instagram. On the day of, we decided to offer free laser tattoo removal treatments and 50 percent off treatment packages. We also allowed clients only to pay half of their package upfront. Come August 14, we had 13 new clients on that day alone."
On August 14, 2019, Spectrum Laser Aesthetics made $3,127 in profits (essentially $6,254 without the promotion) from their National Tattoo Removal Day promotional treatment package.
What was your National Tattoo Removal Day participation like in 2020?
"In 2020, we again offered free laser tattoo removal treatments, ran the same 50 percent off treatment packages promotion, marketed on social media and through word-of-mouth. The only thing that changed is we had a local news station run a story on us. The news station had already published a story about Spectrum a few days before National Tattoo Removal Day and then did a follow-up story on the actual day that got us a lot of attention. It was a great success! We had 21 new clients come in that day alone."
In 2020, Spectrum Laser Aesthetics made $4,600 in sales from their National Tattoo Removal Day promotion (essentially $9,200 without the promotion). They sold 13 tattoo removal packages in addition to performing 21 free tattoo removal treatments and had eight clients purchase an additional service.
Do you have any marketing tips for other laser tattoo removal practitioners participating in National Tattoo Removal Day?
"Market early on and be patient. Get the word out there on various platforms, and have plenty of bandaging on hand the day of. We offered drinks and finger foods the first year we participated and then drinks only in 2020 due to coronavirus. But what I'm getting at, is make National Tattoo Removal Day a fun event. Entertain the people in your waiting room and during their consultation, virtually at every touchpoint. It's a nationally celebrated event, so budget in advance and don't be afraid to spend a little bit to get clients and prospects excited. A little goes a long way. In our case, it turned into a $9k day."
Want more tips on how to throw a successful event at your medical spa or aesthetic laser business? Click here to read our article on Tips for Hosting a Successful Med Spa Open House from RxPhoto.
Any parting words of wisdom or lessons learned that could help other laser business owners?
"Get good patient reviews and create opportunities for clients to give you reviews. We've been open for two years and nine months and have already gained 134 reviews. When we ask new clients how they found us, they say they were either referred by an existing client or picked us because of our 100+ 5-star reviews. When it comes to getting reviews, you have to stay on top of it. Have a system, and if you don't have the time or know-how, then I highly recommend hiring a marketing team."
Last but not least, can you share a story about #changinglives?
"We remove a lot of wedding ring tattoos and hear about the infidelity stories tied to those tattoos. These clients usually lack confidence and sound very meek and mild when sharing their tattoo regret stories. However, with each treatment, their confidence skyrockets as their tattoo fades. It's gratifying to see our clients grow and to be a part of helping many of them move past hurtful moments in their lives–it's a very fulfilling job."
To learn more about Spectrum Laser Aesthetics, visit https://www.spectrumtyler.com/ or call (903) 231-5072 to book a free consultation.
---
Numerous laser tattoo removal practices like Spectrum Laser Aesthetics use National Tattoo Removal Day to generate revenue, grow their practice, and attract new and existing customers. Since Astanza founded National Tattoo Removal Day on August 14, 2018, consumers have continued to invest in advanced laser tattoo removal treatments at a high rate.
If you plan on participating in National Tattoo Removal Day this year, click here or the image below to download FREE promotional social media graphics. Also, don't forget to use the hashtag #NationalTattooRemovalDay to generate more awareness.
If you are a patient interested in receiving laser tattoo removal treatment using innovative laser tattoo removal technology, click here and we'll connect you with an Astanza provider near you. You can also learn more about National Tattoo Removal Day by visiting http://nationaltattooremovalday.com/.