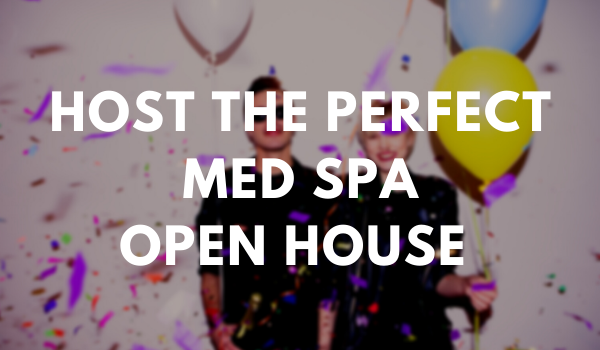 Our clients often ask us, "How can we make sure our open house event is a success?"

Hosting a big event, like an open house, is a great way to promote your clinic as well as new services you'll provide. Launching a new laser service or unveiling a new device at your clinic is exciting, and it's something worth getting your clients and community excited about, too! We've partnered with RxPhoto to give you tips on how to host a med spa open house event that will give you the publicity you're after and deliver a worthwhile return on your investment. Keep reading for more information on how to get your community excited, engaged, and invested 💰 in your clinic.


#1: Promote, promote, promote!
Open houses need people, so make sure to promote your event consistently and strategically! Begin promoting at least six weeks before the open house using several different outlets, including digital, print, and word-of-mouth. To help spread the word, create an eye-catching invitation in a few different formats that you can print and display inside your clinic, distribute outside your clinic, share (or pay to boost) on social media, mail to locals, and hand out to your patients.

While it's essential to promote your open house to encourage attendance, it's equally important to market your clinic and laser services in the process. Throughout your promotional efforts, show clients why they won't want to miss the open house by offering exclusive discounts on treatment packages, giveaways, live demos, etc. These types of offers can encourage your clientele to keep coming back to your clinic long after the open house is over, as well as explore other treatments they haven't yet considered.

#2: Make it a Party Your Clients Would Actually Go To
If you want your event to get some buzz, make it worth buzzing about! In addition to sweet deals, demos, and giveaways, your open house needs an "it" factor that takes it from just a "work event" to an actual party. Delicious food, drinks, and music are a must, but don't stop there. Think outside the box and brainstorm fun ideas that will attract influencers, movers, and shakers (A.K.A people who will share live Instagram / Facebook videos from the event with their followers, tweet about the event, and get more people to think about your clinic). Ask yourself, "what's the draw?"

Here are a few ideas for your open house (depending on your budget and available space): Partner with a local brewery or host a cocktail hour, book a live music act, recruit a few popular food trucks from the area, offer personalized skin analyses or consultations, create a Snapchat filter for the event, bring in "social photo booths," implement fun servers / "human tables," piggyback off a holiday for a go-to theme, invite micro-influencers in your industry, etc.

Of course, not every "fun" idea will be the best fit for every business or clinic. When planning your open house, think about what your attendees would want to see or experience.

#3: All Hands on Deck!
Your open house isn't just a chance to show off your clinic and services - it's also an opportunity to showcase your incredible staff! These are the best people to educate potential patients about your services and demonstrate the culture of your clinic. Having knowledgeable, friendly staff members that can answer treatment questions, perform live demos, offer free consultations, or heavily discounted first treatments is an excellent way to set expectations with potential clients. Furthermore, it creates an opportunity for staff members to form relationships, establish trust, and gather contact information to follow-up with their prospects.

Many of your attendees might be visiting your space for the first time. Meeting your aestheticians, technicians, receptionists, and upper management can help build relationships and make potential patients feel more comfortable in your care.

Also, don't be afraid to bring in outside resources to staff your open house. Often, sales representatives from your manufacturer are available to attend open house events to help increase their brand awareness while supporting your business. If you're serving food and drinks, don't shy away from hiring a bartender or small wait staff for the evening. Paying to do things well usually pays off in the end and enriches your guests' experience.

#4: Follow up after the event!
We can't stress this enough: following-up with attendees is crucial to the success of an open house! Make sure you have a plan in place to capture contact information (at least full name, cell phone number, and email address) of every person who walks through your door. Whether you use a traditional sign-in sheet or an online resource, be sure to capture any contact information so your team can follow-up.

To organize your follow-up efforts, develop a campaign that incorporates email blasts, phone calls, and text message marketing to reach individual attendees. These touches can promote discounts, packages, and valuable add-ons as well as help you stay top of mind with your base long after the open house.

Need More Tips?
Need more open house tips? Read the comprehensive list of open house best practices from RxPhoto's recent blog! Astanza is committed to helping our clients and followers grow their laser businesses through outstanding service, training, marketing support, and technology. To learn more about RxPhoto and claim a discount for their before-and-after photography platform, click here or below.