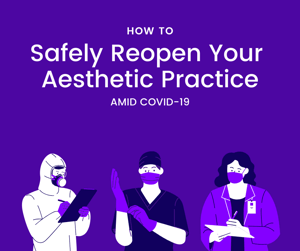 After your city, county, or state guidance gives the okay to resume business again, for many medical spas, physician offices, and laser tattoo removal specialists, the question of "how do I safely reopen my aesthetic practice?" will be just as important as "when do I reopen?"
Reopening your business may not be as simple as it used to be. Before, you could simply show up to work, open your doors, and get ready for patients to walk in for their appointments. In the new COVID-19 world, the aesthetic industry needs to think about protocols and best practices that make our team members safer and ensure a safe environment for all of our clients. One of the biggest inhibitors that may stop clients from booking treatments and coming back to your practice is the uncertainty surrounding the safety of visiting your business. If you don't clearly outline and communicate what steps you are taking to ensure your clients' safety, you risk losing them to a competitor who is actively communicating their concerns and establishing a sense of security and comfort.
As many businesses and practices began closing their doors and discontinuing treatments in response to the breakout of COVID-19, virtually all inboxes were flooded with emails about new COVID-19 business protocols that were taking place and how they affected client relationships. While those emails may have seemed like white noise at the time, in retrospect, it was important for customers to know what was happening at the businesses they frequent. More importantly, as we prepare for what's to come, it's essential for customers to know your plan for their safety upon reopening.
---
Staggered Appointment Scheduling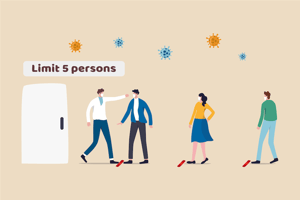 Unlike several retail businesses that rely on walk-ins, most aesthetic and physician practices set the availability of appointments. There is a clear advantage to this during times of needed social distancing as it allows practitioners to limit the number of people in waiting rooms.
For instance, if your regular schedule was to book a client every 15 minutes, you may want to consider extending that to every 20 or 30 minutes. This adjustment will limit your practice capacity and ensure that you won't have too many people in your waiting room or lobby at one time.
Waiting Room Redesign
We mentioned this briefly before, but rearranging your waiting room or providing signage to promote social distancing is an extremely simple measure that can go a long way. One protocol that many multi-treatment room practices have put in place is funneling patients out of the lobby or main waiting area and into separate treatment rooms. For instance, if you have someone coming in for a hair removal treatment, instead of having them wait in the lobby, you can send them into a dedicated hair removal treatment room and keep them away from other patients.
Enhance Cleaning and Safety Protocols
It goes without saying that at its very core, the COVID-19 pandemic IS a health crisis. So to effectively and responsibly open any business while the pandemic is still impacting the health of people, it's critical to implement and make clients aware of the actions you are taking to enhance their safety and that of your team. A few tips to improve cleaning and safety protocols include:
Hire a professional cleaning company to do a thorough cleaning of your practice before reopening as well as weekly cleanings after opening to maintain a clean environment for your staff and clients. Astanza has scheduled professional cleanings of our treatment room and headquarters for New Look Laser College courses:
Implement safety protocols at each team meeting. A safe and clean workplace begins with staff members who prioritize and follow safety requirements. Discuss and enforce new safety protocols, whether it means cleaning all surfaces every hour, wearing gloves and masks in all treatment rooms, putting up a transparent divider at the receptionist desk, etc.
Use appropriate personal protective equipment (PPE). PPE is crucial for aesthetic practices that work closely with customers and patients for both invasive and noninvasive treatments. Make sure all laser technicians, aesthetic practitioners, receptionists, and clients wear proper equipment such as goggles for laser treatment, gloves, and masks if necessary.
Put up signs, remove or rearrange seating, or provide floor and seat markers that remind customers and visitors to practice social distancing and maintain a 6-foot gap between others at all times.
Do a COVID-19 audit and take a look at your office and practices from the viewpoint of a customer. If you put yourself in your customers' shoes, you may find additional safety measures to consider.
Revive or Start a Customer Loyalty Program
Hopefully, you have been consistently communicating via email, your website, and social media about your business and how excited you are to see your clients when things return to normal. In fact, now is a great time to start marketing a loyalty program to reward your loyal customers when they come back (and bring a few friends) when things begin to reopen.
Sending a "Buy One Get One" coupon to your best clients or an exclusive invitation for your clients to start booking appointments helps let them know you care. For businesses that have gone dark and stopped all communication with their customers, it might be just as hard to win those clients back than it was to acquire them in the first place. If you haven't been doing any marketing since shutting down, there's a good chance your clients have forgotten you exist. When that happens, you can't be surprised when they move on to a competitor that has been ramping up their marketing aggressively.
---
Plan Ahead to Get Ahead
While we don't know when normalcy will return, we do know that now is a great time to start thinking and planning for your return. Don't let temporary closures get you down. Use this extra time to prepare for added safety measures and even some type of grand reopening event. It doesn't necessarily have to be a crowded in-person event at your practice. During these uncertain times, the last thing you want to do is have large gatherings too quickly. Instead, you could host a fun virtual webinar or live Facebook event where you offer giveaways, specials, and discounts to get clients pumped up for your return and their next treatment.
One last reminder, make sure you clearly outline and communicate what steps you are taking to ensure your clients' safety or you risk losing them to a competitor. Now let's get back to work.

Click here to watch our recent webinar: Navigating Tough Times: Insights for Aesthetic Practices Regarding COVID-19, that discusses various areas that aesthetic practices are concerned with during this time. You can also click here to view our latest #AskAstanza video where we discuss how to safely resume treatments after a few missed sessions.