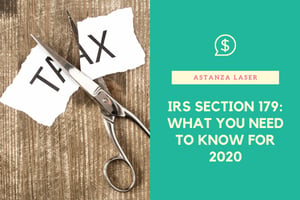 The Section 179 deduction is an Internal Revenue Service (IRS) tax code that allows medical and aesthetic businesses the opportunity to deduct the total cost of qualified equipment, such as a laser purchase, acquired in 2021 rather than writing off smaller amounts over several years. In other words, Section 179 removes the wait for reimbursement and allows businesses to receive a significant tax refund in the current year versus amortized payments over the life of the asset purchased.
Section 179 Deduction Limits in 2021
Of course, everything has its limits, and Section 179 doesn't come with exceptions. The 2021 deduction limits for Section 179 state that a business can deduct the full amount of the qualifying purchased equipment in 2021 up to $1.05 million. Meaning the write-off limit for 2021 is $1,050,000; this applies to financed, purchased, and leased equipment such as laser technology.
In the aesthetic industry, most capital purchases, such as hair removal or tattoo removal lasers are significantly under the $1.05 million limit. Even if you were to purchase several devices within one year, there's a good chance your total cost would still hit below the $1.05 million limit.
Geneva Capital, one of Astanza's finance partners, posted an informative video about how to structure a Section 179 deduction effectively. We have included it below for your information.
In the video, a Geneva Capital representative discusses the requirements needed to take advantage of the Section 179 write-off, who is the best fit for Section 179, and the specific ways to pay for equipment to qualify for this tax break.
Tax Savings Calculator
Geneva Capital also has a helpful online calculator tool to estimate your Section 179 tax deduction and 2021 tax savings. Head to https://www.gogc.com/leasing/tax-savings to check out their calculator.
Get Pre-Qualified
If you're considering buying or upgrading to an Astanza laser in 2021, a great way to get started with the laser buying process is to get pre-qualified. Getting pre-qualified doesn't impact your credit score as it doesn't initiate a hard credit pull.
*Astanza Laser and Geneva Capital recommend each customer review their situation with their tax advisor. All financial transactions are subject to equipment and credit approval.
On Demand Webinar: How to Buy an Aesthetic Laser - Financing, Section 179, and More!
Astanza partnered with Geneva Capital to provide information about the laser purchasing process, financing an aesthetic laser, and specifics of the Section 179 deduction.
Click here to view the on demand webinar, How to Buy an Aesthetic Laser – Financing, Section 179, and More!