Astanza Laser is the leading provider of laser tattoo removal devices for non-profits and correction facilities around the country. Our partnership with numerous organizations worldwide has given us the expertise to help other non-profits learn how to start and operate laser tattoo removal programs.
---
Each laser tattoo removal non-profit we've worked with sets out to accomplish the same purpose we live by at Astanza, and that's #changinglives. One of the ways we put that motto into practice is through our Laser Tattoo Removal Community Day.
Periodically, Astanza gives back to the community by offering free laser tattoo removal sessions to those in the Dallas-Fort Worth area who want to remove painful memories of the past but cannot afford laser treatment. Our local non-profit and governmental agencies identify these individuals as people who cannot afford tattoo removal, the formerly incarcerated, individuals affected by human trafficking, and those having difficulty finding employment due to visible tattoos.
Want an inside look at what a Community Day looks like? Check out our feature on Dallas's very own Spectrum News. Stacey Rickard, Spectrum News reporter, got an inside look at a treatment we performed to help Francisco Flores remove his "jailhouse tattoos" in hopes of securing better employment opportunities.
During a Laser Tattoo Removal Community Day, qualified individuals can visit Astanza's headquarters in downtown Dallas and receive professional laser treatment from our experienced team of biomedical engineers and New Look Laser College's trainers, Astanza's training division. All treatments at Community Day are free of charge and designed to give back to those in need in the Dallas community.
Laser tattoo removal is more than just a method to remove unwanted tattoos. It's a powerful tool that frees people from past mistakes, regrets, and hurts, and opens doors to a brighter future. Astanza is proud to help remove physical barriers that misrepresent a person's character. One of the goals is to help reduce recidivism and ultimately – change lives.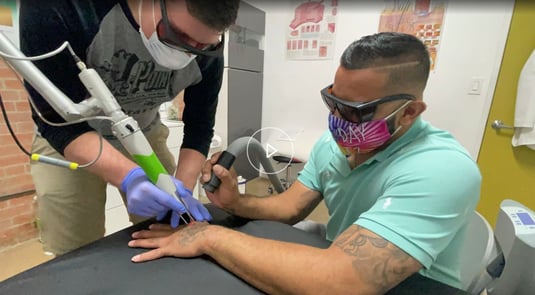 Check out our new Community Tattoo Removal Day Page for more information on upcoming Community Day dates, how to sign up, and how to partner with us. Our Astanza headquarters is located at 1810 S. Akard Street #500, Dallas, TX 75215.
---
Interested in starting your own non-profit or learning more about Astanza's work with non-profit tattoo removal? Click here for more details.