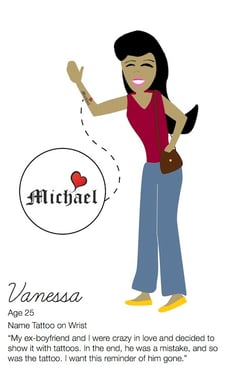 Valentine's Day is just around the corner, which means it's time to celebrate with your love. That said, sometimes before finding Mr./Ms. Right, you may have been with Mr./Ms. Right Now. You thought the relationship would last forever, enough so that you got their name tattooed on your body.

Now, with the most romantic holiday of the year approaching, you want to hide the tattoo of your former flame's name. Is there a way? Read on.

The Reasons People Get Tattoos Removed

Tattoos are the ultimate means of self-expression, and many people who get them think long and hard about what to get permanently inked on their bodies. With time, though, people may change their mind.A tattoo bearing an ex-girlfriend or ex-boyfriend's name or even picture is a driving reason people look into getting their tattoo lasered off. There are plenty of other reasons, too, such as getting something trendy tattooed that's out-of-date. Also, they may no longer like the band/movie/character they got tattooed on them or the tattoo has become discolored or faded.

Why Tattoo Removal Makes the Perfect Valentine's Day Gift

Of course, sometimes people don't want to remove their tattoo and just want to improve it via a cover-up. No matter which option you prefer —tattoo cover-ups or removal—if you want to remove an ex's name, laser tattoo removal is for you.

It can be embarrassing to have to explain a tattoo of your ex to a new boyfriend or girlfriend. You don't want them to see the tattoo with your ex's name on your body before you get a chance to mention it, and once you do, you know it can create bad feelings in the relationship.

If both of you want the tattoo to be covered up or gone entirely, then this Valentine's Day is the perfect time to start making it happen. You do have to remember that laser tattoo removal doesn't happen overnight and can take several treatments depending on the age of the tattoo, ink used and colors.



To find a practitioner in your area that uses Astanza tattoo removal lasers, click here.