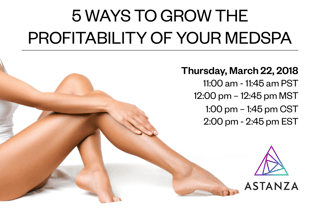 With the increasing popularity of beauty and wellness treatments of all kinds, the demand for the services offered at "medspas" is flourishing. The high demand for information and know-how on the specifics of operating and expanding a medspa business has inspired us to host an instructional, absolutely free webinar on: "5 Ways to Increase the Profitability of Your MedSpa." Before you sign up for the webinar, here are some pre-session basics.
What is a MedSpa?
MedSpas, short for "medical spas," combines elements of traditional spas and medical clinics. Patients at medspas receive cosmetic procedures, especially ones countering the effects of aging skin, in a relaxing environment. Medspas have become more and more popular with the booming aesthetic industry. Having helped establish medspas internationally, Astanza Laser wants to share insight on how these businesses increased their profitability.

What's the Webinar About?
The webinar will teach you how to increase the profitability of your medpsa, how to market it and attract new customers, which popular services to add to your business, and much more.
Here's a preview of the topics we'll be discussing:
The Growing MedSpa Marketplace

Five Ways to Increase the Profitability of Your MedSpa
Customer Service

Treatment Times

Referrals

Additional Services

Marketing
What Are the Webinar Logistics?
The short, 45-minute webinar will be on Thursday, March 22, 2018, 1-1:45 PM CST. If you can't make it live, don't fret--register and we'll send you a recording of the webinar. We'd hate for you to miss out!
You can click here or on the image below to register.