Thinking about joining the Marines but your tattoos are holding you back? If you have tattoos that go against the new tattoo policy, you may not be eligible to enlist. Learn more about the latest Marine Corps' tattoo policy and how Astanza can help you find the laser tattoo removal treatments you need to get back on track with your journey to become a Marine.
On October 29, 2021, the Marine Corps updated its policy regulating tattoos, canceling the policy Marine Corps Bulletin (MCBUL) 1020 created in June 2016. The decision to change this policy came after a months-long review of existing regulations, which were believed to have an adverse effect on retention and recruiting efforts. As a result, a panel of Marines from various backgrounds and ranks recommended changes to the policy reflected in the bulletin.
---
The Marine Corps is known for its strong legacy of men and women who are disciplined, physically fit, and ready to accomplish any mission. Hence, their updated tattoo policy reflects the balance between the need to maintain a disciplined appearance and the individual desires of each Marine.
Where Can You Have Tattoos?
To keep the polished and disciplined appearance of the Marine Corps, each Marine is allowed to have tattoos anywhere except on their head, neck, and hands. In addition, tattoos on the chest or back must be covered by a properly fitted crew neck t-shirt with no tattoo visibility. Tattoos on the lower arm may extend no further than a line around the wrist's circumference measured at the wrist bone. Lastly, hand, finger, and wrist tattoos are prohibited, except for a single band tattoo of no more than ⅜ of an inch.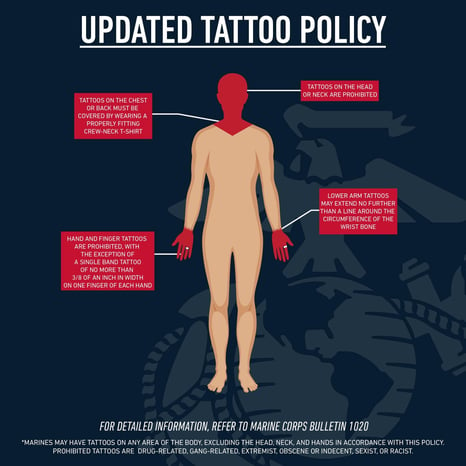 What Type of Tattoos are Prohibited?
All tattoos that are prejudicial to good order or discipline are prohibited. These prejudicial tattoos include anything drug or gang-related, extremist, obscene or indecent, sexist, and/or racist.
To read more about the Marine Corps' updated tattoo policy and the prohibited tattoos, click here.
Get A Fresh Start With Laser Tattoo Removal
If you want to enlist in the Marine Corps or any other branch of the armed forces and have tattoos that might cause a problem during your enlistment process, laser tattoo removal may be the key to ending your worries.
While getting a waiver for your tattoo is possible, it's not guaranteed. However, your recruiter can work with laser tattoo removal practitioners to provide the laser tattoo removal treatment you need. At Astanza Laser, we have clients that are some of to the best laser tattoo aesthetic practitioners in the laser tattoo removal business. You can find one near you to get the tattoo removal you need to join the service.
From Us to You, Happy Veterans Day!
We'd like to wish our #AstanzaFamily customers and employees a Happy Veteran's Day, celebrated on November 11, 2021. Sharing a special thank you to our Business Development Manager, Jarod Stevens, for your service!
We Hire Military Veterans
Are you a military veteran that's looking for a new career or position? Guess what?! We are hiring! Some of the positions we're hiring for include Biomedical Engineers, Sales Account Managers, and a Digital Marketing Manager! You don't have to be a veteran to apply but we do take a closer look at resumes that are submitted by veterans. Check out our website for more information.
Here at Astanza, we do more than sell lasers; we change lives.