The greatest thing about Astanza is the client partnerships we create along the way. From medspas and laser entrepreneurs, physicians to tattoo artists, and non-profits to correctional facilities, Astanza has cultivated a wide range of client relationships worldwide. While many of our clients come from different backgrounds, one thing ties them and Astanza together: our underlying mission to change lives and positively impact our communities through advanced laser treatments.
Our team recently interviewed Colton James, co-owner of Eden Body Art Studios and one of Astanza's newest family members, to get an inside look at his tattoo studio. Keep reading to learn more about this unique Dallas tattoo shop and its new laser tattoo removal service featuring the Astanza Trinity.
---
Tell us more about the history of Eden Body Art Studios. What is your shop's aesthetic? What can customers expect about your shop when they visit?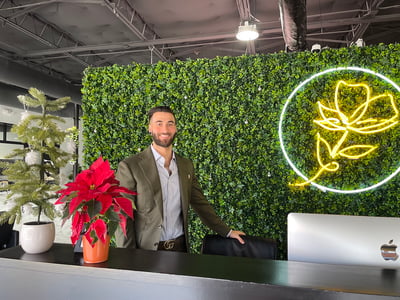 "We opened the studio this past February. Last year, my wife Deanna James and I had the idea to open a tattoo studio where not only the art is on another level but also create an environment that breaks the mold of traditional tattoo parlors and tattoo studios. We wanted to create an elevated environment and client experience for people to enjoy. If you've never been to our shop before, it looks very different from your typical tattoo studio. Everything is bright white, there's no art on the walls, our floors have a nice marble pattern, and you can even expect people in suits to greet you."
Walking into Eden Body Art Studios for the first time, one would not guess it was a tattoo studio. Colton and Deanna set out to create a space unlike any other tattoo shop and did just that. Upon entering, clients see a neon sign of the Eden Body Art Studios logo propped up against a large green garden backdrop. As Colton shared, a well-suited team member checks clients in and leads them to a white marbled open space for tattooing and a private area for laser tattoo removal treatments. Best of all, Eden Body Art Studios' aesthetic matches their talent, with tattoo styles ranging from realism, abstract, watercolor, illustrative black, grey, and color, and more.
What sets Eden Body Art Studios' apart from other tattoo studios in Dallas?
"We set out to create a very professional, safe, and welcoming environment that looks very clean and sterile, so you know the kind of experience you're getting when you walk into our doors."
Professionalism exudes from every square foot of Eden Body Art Studios. The space is not only welcoming but spotless and neat, giving its artists an organized, clutter-free space to execute their artwork and perform laser treatments while allowing clients to feel comfortable and at ease. Check out the video below for a walk-through of Eden Body Art Studios practice:
Why did you decide to add laser tattoo removal, and what do you hope to achieve with this new service?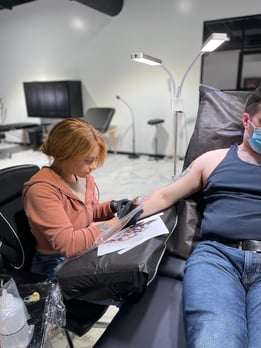 "It was always our plan to add laser tattoo removal services. My wife, Deanna, always likes to say, 'We're in the Renaissance of tattooing, and the kind of tattoos we do now didn't exist ten years ago.' So with that, people have a lot of tattoos that maybe don't meet their expectations anymore. We constantly get inquiries for cover-up tattoos which are just not possible a lot of times because of how dark the original tattoo is. We wanted to be able to lighten tattoos to make cover-ups easier and also remove unwanted tattoos that don't meet people's expectations anymore."
While many tattoo artists and studios are adding laser tattoo removal to remove unwanted tattoos that people may regret or outgrow, most are using the service to correct, modify, or improve cover-up artwork. Cover-ups can be incredibly hard to execute without laser tattoo removal, no matter how talented a tattoo artist is, especially if the existing tattoo is large and contains a lot of black ink. Eden Body Art Studios can lighten a tattoo with laser tattoo removal and remove size, color, and space limitations that would otherwise restrict clients from getting precisely what they want.
Why did you choose Astanza technology?
"One thing I really like about the Astanza Trinity is it gives us the opportunity to remove all colors of tattoos, which was very important to us. We didn't want to turn anybody away because we didn't have the technology to treat their tattoo. When we were looking at other devices and different companies, we quickly found that a lot of lasers can't remove blue and green tattoos, which is something a lot of our competitors can't do. So it was important for us to have a machine that removes blues and greens, reds, and black tattoos."
The Astanza Trinity is a client favorite, thanks to its three wavelengths and full-spectrum capabilities. The Trinity's 694 nm ruby wavelength gives Astanza practitioners the ability to target and remove stubborn blue and green inks that traditional dual-wavelength lasers cannot. Furthermore, the Trinity uses two standalone lasers that are fully powered to deliver optimal ink shattering and faster results versus other lasers that use underpowered dye handpieces that produce a fraction of the power the Trinity can.
What have you enjoyed most/what are you most looking forward to about your partnership with Astanza?
"When I started looking for a company to go with, Astanza was based right here out of Dallas, and their accessibility was really important to us. Also, they're great with customer service, so if we have any questions about anything and they're just 20 minutes down the road, which was really appealing to us."
Astanza's Dallas headquarters makes it very convenient to visit local clients like Eden Body Art Studios. However, most of our clients are spread out nationwide and some even overseas. Whether our clients are right down the street or a flight, train, and bus ride away, we provide the same quality of service worldwide. Interested in learning more about our product line or what a partnership with Astanza looks like? Schedule a one-on-one virtual demo with one of our expert team members. We'll answer any questions you may have and can even show you live treatments over the personalized video call.
---
Eden Body Art Studios is hosting an event on December 18, 2021, from 12 pm to 9 pm, to introduce their new laser tattoo removal service to celebrate the tattoo community and their new laser tattoo removal service. Their consultations for laser removal are always free, but for the event day only, the pre-purchase of any laser treatment package (3 or more) will include one FREE laser session at the time of consultation.
To learn more about Eden Body Art Studios or schedule a free laser tattoo removal consultation, visit https://www.edenbodyartstudios.com/, call (972) 803-5828, or follow them on Instagram and Facebook. Eden Body Art Studios is located at 13360 Preston Rd, Dallas, TX, 75240.
Astanza is proud to welcome Eden Body Art Studios to the Astanza Family and continue impacting lives through our laser tattoo removal technology. If you are a tattoo artist or shop owner that's interested in adding laser tattoo removal to your services, check out our webinar, "Under the Ink: An Inside Look at Laser Tattoo Removal from Tattoo Shops," or contact us to learn more from an Astanza representative.